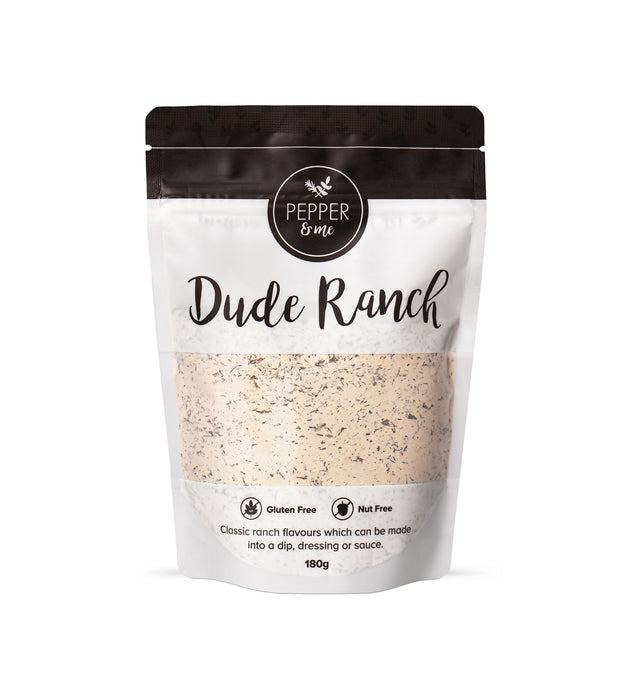 Dude Ranch
Original price
$15.95
-
Original price
$15.95
Our pick for the hottest seasoning of summer!
The American dream. This ranch seasoning can be mixed with sour cream, mayo and a little vinegar for a delicious ranch dip OR used simply as a dry ranch seasoning, to make everything taste better! 
I've been using it in mashed potatoes for a dreamy ranch mash, any creamy pasta sauces, use to season any kind of roast or baked potatoes. Add some to tuna or egg salad, chicken lasagne, creamy spinach dips. We have endless recipe ideas and are adding them to the Pepper and me club as we speak! 
Also can be used as a dry seasoning on meats, potatoes or creamy pasta.
Now in a 180gm Bag!
Ingredients
Storage
Instructions
Nutrition Information
Milk Powder (Whole Milk, Skim Milk, Lactose, Emulsifier (322), Vitamin A, Vitamin D3), Onion Powder, Garlic Powder, Herbs, Salt, Sugar, Black Pepper, Mustard Powder

Contains Milk

Store in a cool dry place. Use within 3 months of opening.

Our favourite way to use is to mix 2 Tbsp with ¼ cup mayo, ¼ cup sour cream and 1 tsp white vinegar. Mix, then pop aside for 10 mins to make a ranch dressing.