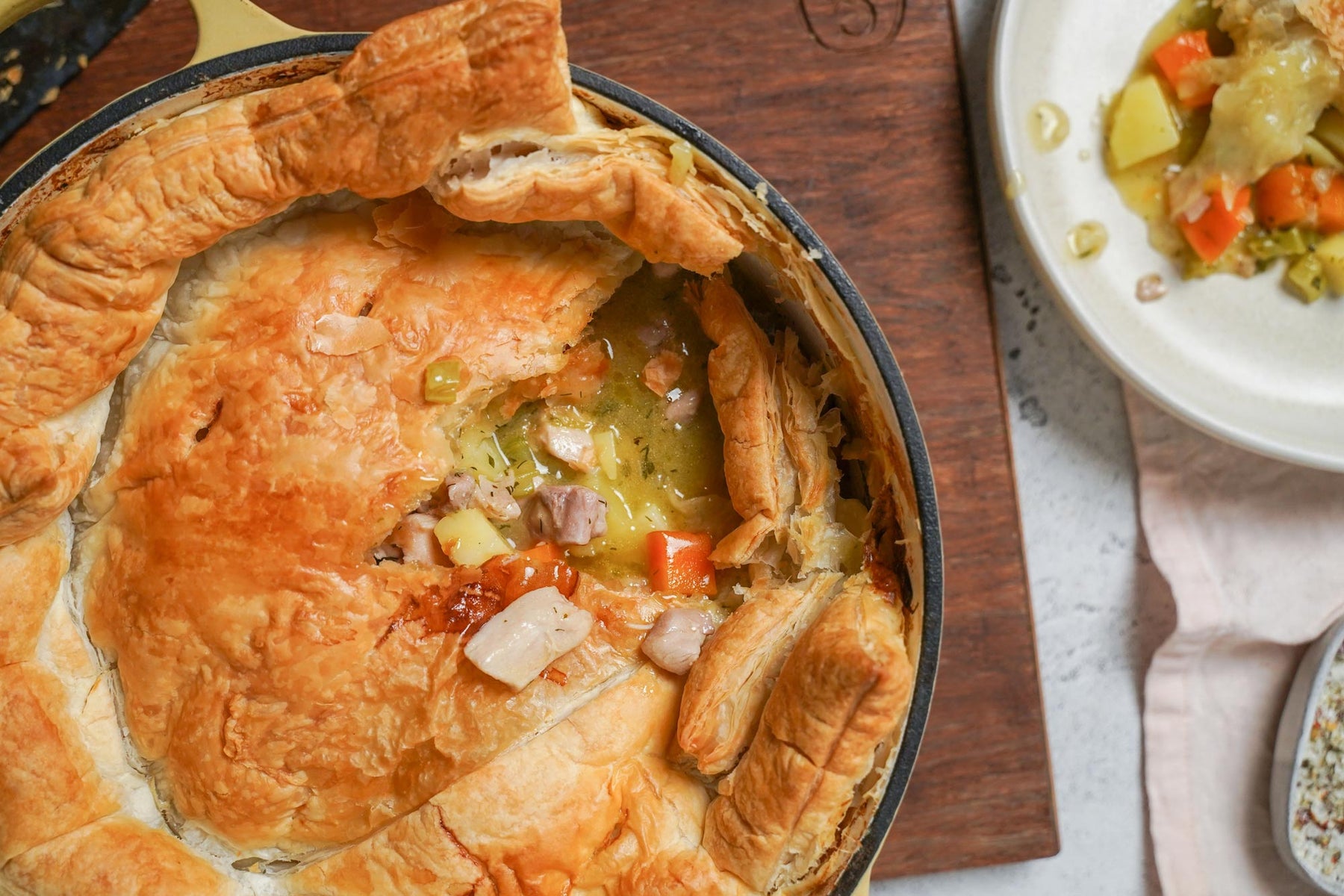 One Pot Chicken Pie
< Return To Recipes
One Pot Chicken Pie
Our latest addition to Pepper & Me, Ella has created this smash hit One Pot Chicken Pie using our hottest summer product, Dude Ranch. Your family will love the soft pieces chicken and vegetables in a creamy cheesy Dude Ranch sauce. 
Ingredients
750g Chicken thigh or breast
1 onion, brunoise
2 carrots, brunoise
3 Potatoes, peeled and brunoise
½ stick celery, brunoise
50g butter
3 Tbsp Dude Ranch
3 Tbsp Flour
450ml chicken stock
2 Sheets puff pastry
Instructions
1:
Preheat oven to 180 fan bake.
2:
Brown off the chicken in a little oil, don't worry if it sticks to the pan, it's all flavour, Set aside.
3:
Melt the butter in the same pot and add in onion, sweat down with a good pinch of man grind until soft.
4:
Add in carrot, celery and potato, cook down just starting to soften.
5:
Once soft add in Dude ranch and flour, stir in to coat all of the vegetables.
6:
Slowly add in the chicken stock bit by bit, stirring in between each addition, if you add a bit too much stock you can make a slurry of 2 Tbsp cornflour and 2 Tbsp water to thicken the mix up.
7:
Keep on the heat for around 10 minutes or until the vegetables are starting to soften. Add in the cooked chicken and stir to combine.
8:
Once chicken is added, take off the heat and allow to cool to room temperature. You can leave it in the fridge as well.
9:
Once cooled, place the puff pastry on top and brush with a beaten egg or milk.
10:
Place in the oven for 30-40 minutes or until the pastry is golden and cooked through.
11:
Pull out and let cool to enjoy.
Extra Notes
For a vegetarian option, leave the chicken out and swap the stock to vegetable stock.
Love this recipe and want more?
Try the Pepper & Me Club!
If your after new and creative recipes to use your Pepper & Me products in then our Club is the place for you. For $5NZD a month, we have a library of delicious recipes for you to own your dinner table.