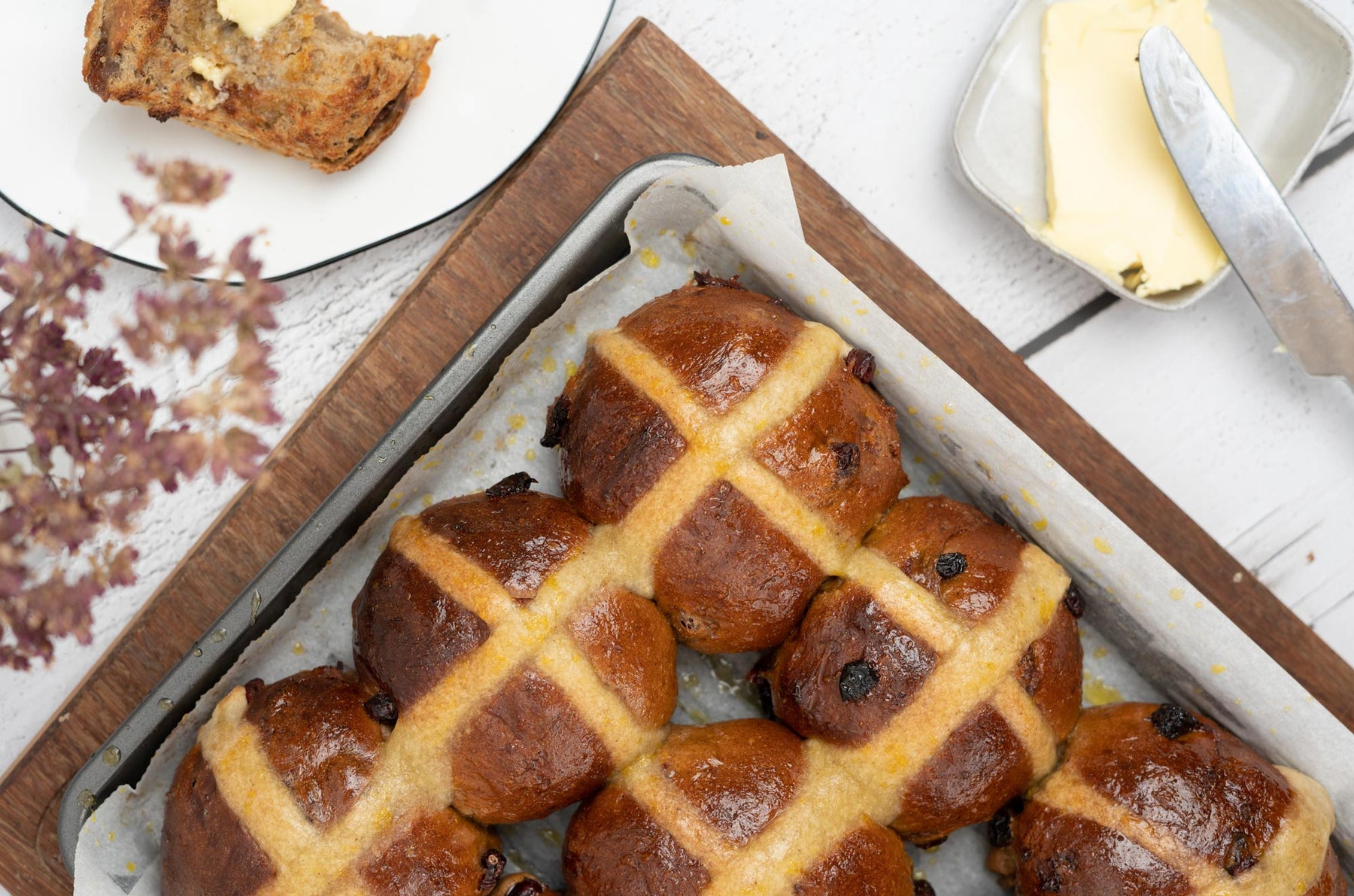 Ultimate Hot Cross Buns
< Return To Recipes
Ultimate Hot Cross Buns
Sugar, spice & everything nice, these hot cross buns combine the fragrant blend from Bakers Salt Blend with dried fruit & an orange glaze. Best served with a generous amount of butter!
Ingredients
150g Cranberries
100g Currents
1 Orange Zest (reserve juice)
30ml Rum (can be substituted for orange juice)
300ml Warm Water
10g Dry Instant Yeast
40g Sugar
500g Flour
15g Ginger Spice
10g Salt (Level up with Bakers Blend!)
40g Butter Softened
1 Egg
Hot Cross Mixture
75g Flour
25g Oil
75g Water
Glaze
Juice of 1 Orange
40g Sugar
Instructions
1:
Soak the fruit in rum/juice overnight. (Or microwave for 1 minute and leave to cool before using ).
2:
Put the yeast, sugar and water into a bowl for 15mins or until yeast has activated and foamy. Add remainder ingredients except fruit.
3:
Knead for 15 mins in stand mixer OR until smooth and soft by hand.
5:
This is sticky dough! Leave to double in size for roughly 1 hour
6:
Dump onto a floured bench and weigh into 100g balls
7:
Place into a high side tray - roughly 1cm apart. And leave again for another hour.
8:
Combine all the cross ingredient, and pipe the crosses over the dough balls
10:
While they are baking - put syrup ingredients into a pot and bring to a boil. When the bubbles slow down. Pull it off the heat.
11:
Once buns are out of the oven Glaze with syrup.
Serve:
Cut and serve with generous butter!
Love this recipe and want more?
Try the Pepper & Me Club!
If your after new and creative recipes to use your Pepper & Me products in then our Club is the place for you. For $5NZD a month, we have a library of delicious recipes for you to own your dinner table.