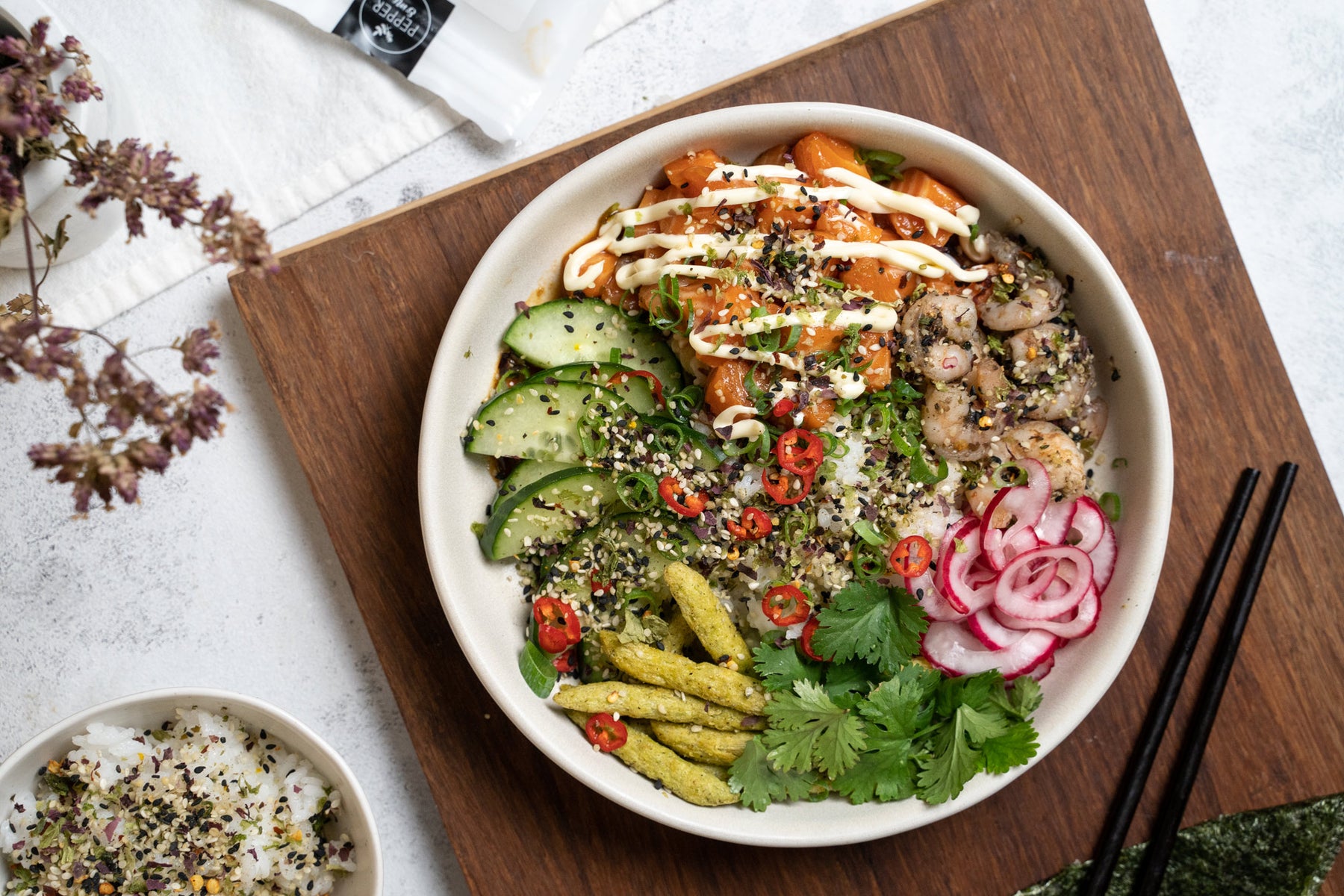 Poké Bowl
< Return To Recipes
Poke Bowl
The ultimate build-your-own meal. Poké Bowls can be packed with all your favourites. From fresh seafood and vegetables to delicious sticky brown rice. These are super easy and fully customisable. Our Poké Me seasoning is the perfect addition to sprinkle along with a drizzle of our Sesh Oil or Sriracha Mayo.
Ingredients
100g Prawn
100g Salmon
Poké Me Seasoning
1 Tbsp Soy Sauce
¼ tbsp Sesame Oil
1 tbsp Hoisin Sauce
1 tbsp Lime Juice
Sesh Oil (to taste)
¾ Cup Brown Rice
Green Onion
Red Onion
Cucumber
Fresh Coriander
Chilli
Instructions
1:
Cook brown rice as per standard instructions or preferred cooking method.
2:
Remove any pin bones from the salmon and remove the skin. Slice salmon into 1 cm cubes and place in a bowl.
3:
Add soy sauce, sesame oil, hoisin sauce, lime juice and sesh oil into a bowl. Mix well.
4:
Add salmon into the marinade, toss well and pop in the fridge.
5:
Thinly slice red onion, then place in a small bowl with rice wine vinegar. Leave to sit for 10mins to slightly pickle. Leave fresh if you prefer.
6:
Coat the prawns in Poké Me seasoning, toss, then pan-fry. Leave to rest once cooked.
7:
Dice coriander, spring onion, chilli and cucumber finely. Leave to the side.
Building Your Bowl
1:
Place warm brown rice in the bottom of your bowl and sprinkle with Poké Me seasoning.
2:
Start by placing your dressed salmon on one edge of the bowl.
3:
Arrange the toppings over the other half of the rice.
4:
Spinkle with Poké Me seasoning & drizzle with Japanese Mayo, Harry Styles Sriracha Mayo or leave it as is.
Recipe Notes
It is important to buy fresh salmon if you are leaving it raw. Do not use frozen salmon. Buy from your local fish shop or ask at the supermarket for the freshest salmon of the day. To make this vegetarian, you can replace the salmon and prawn with tofu or stir-fried vegetables.
Love this recipe and want more?
Try the Pepper & Me Club!
If your after new and creative recipes to use your Pepper & Me products in then our Club is the place for you. For $5NZD a month, we have a library of delicious recipes for you to own your dinner table.