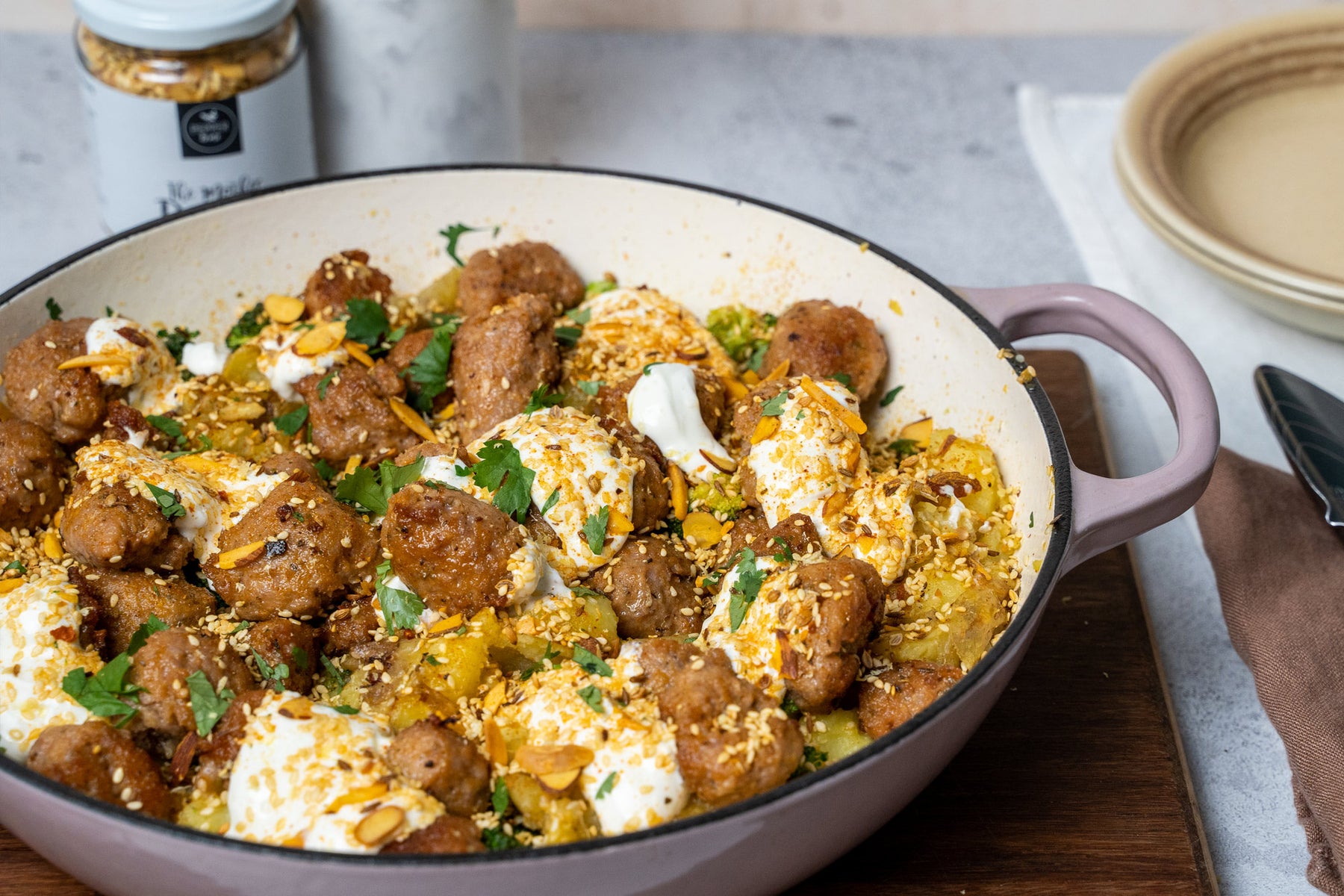 Lamb & Potato Smash
< Return To Recipes
Lamb & Potato Smash
A one-pot wonder! This dish pairs the robust flavours of Lamb with potatoes, creamy lemon yoghurt and broccoli. A delicious dish to feed your family that wont break the bank. Top it off with a sprinkle of our The Mother Dukkah, and dinner is served!
Ingredients
6 Lamb Sausages
750gm - 1kg Baby Potatoes
1 head Broccoli
3 Tbsp The Mother Dukkah
1/2 Cup Greek Natural Yoghurt
1 Tbsp Lemon juice
Fresh Parsley or Coriander to garnish
Instructions
1:
Par boil the potatoes whole until, fork tender. Cut the broccoli into florets and add these for the last minutes of boiling, then drain.
2:
Add oil to a large shallow casserole, and squeeze the sausages out of theirs casings in bite sized chunks. Sauté till golden and cooked through. Remove these from the pan.
3:
Add the potatoes to the same hot sausage fatty pan, season with 1 tsp man grind and smash them to your liking.
4:
Once potatoes are golden on the bottom, flip, then coat generously with our The Mother Dukkah.
5:
Add the broccoli to the pan, and toss and smash till everything's coated and looking golden and delicious.
6:
Add the sausages back in, pop a lid on and leave for a couple of minutes for everything to mingle.
7:
Mix the yogurt with lemon juice, and once the dish is ready, dollop the lemon yogurt on top.
Love this recipe and want more?
Try the Pepper & Me Club!
If your after new and creative recipes to use your Pepper & Me products in then our Club is the place for you. For $5NZD a month, we have a library of delicious recipes for you to own your dinner table.