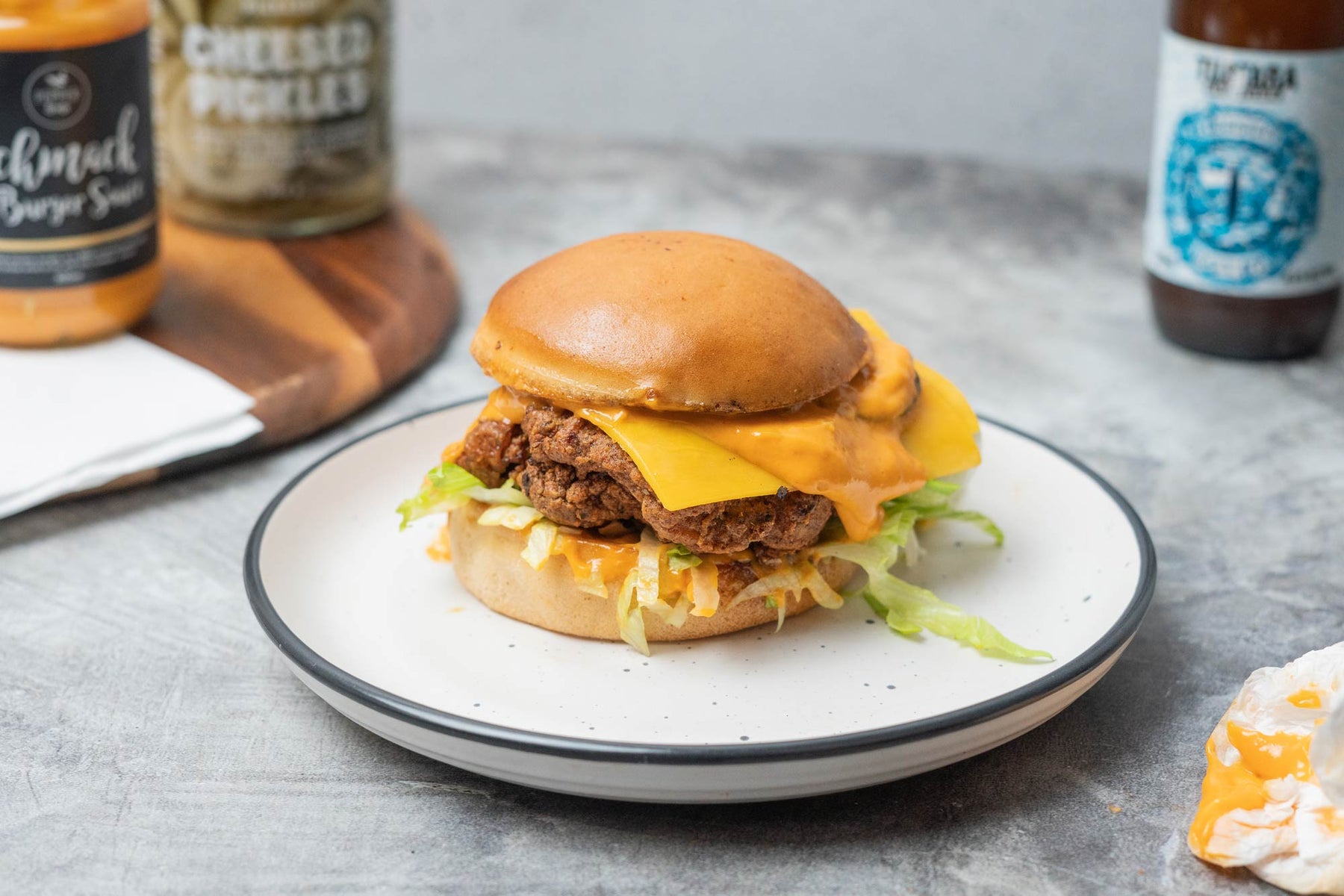 Fry-Yay Fried Chicken Burgers
< Return To Recipes
Fry-Yay Fried Chicken Burgers
Gluten-Free
To all the Gluten-Free people out there, this one is for you! Cherie's famous fried chicken burger. It's been said that this would be the last meal of choice on death row. Using our Gluten-Free Fry-Yay, this recipe creates a mouth-watering burger that everyone will love. Layer your Gluten-Free Bun with a layer with aioli, iceberg lettuce, American cheese, tomatoes, American mustard and pickles.
This recipe was created using product from our friends at the Gluten-Free Shop.Check them out for a wide range of Gluten-Free products.
Instructions
1:
If your thighs are particularly thick, flatten them out to an even size and cut accordingly, or cut into bite sized pieces if you prefer.
2:
Whisk together milk with vinegar or butter milk, and season with Man Grind. Place chicken thighs in the milk mixture, leave if the fridge for a few hours if you can, if not 20 minutes is fine.
3:
Pour Fry-Yay in a large bowl. Take the chicken from the milk and place in the Fry-Yay to coat.
4:
Place the coated chicken back into the milk mix and then back into the Fry-Yay. Folding the Fry-Yay in and over the chicken to coat.
5:
Shake off any excess and place on a tray while you prepare the remaining chicken. Let the chicken rest for 10minutes coated, if you fry it straight away the flour will come off much easier.
6:
Use a deep fryer or heat a saucepan with enough oil to deep fry the chicken. You can shalllow fry in a large skillet if you prefer but you would need at least an inch of oil still. If you have a thermometer the oil needs to be around 180C. If not bring the oil to a medium to high heat, drop a little flour in and if it sizzles your are good to go. Fry in batches so you don't over crowd the pan. The chicken takes about 10-12 minutes to cook turning every 3 to 4 minutes.
7:
Drain the chicken on a wire rack over paper towels not directly on a paper towel as it will go soggy. Season well with Man Grind.
To Serve:
Layer with aioli, iceberg lettuce, American cheese, tomatoes, American mustard and pickles in the Gluten-Free sourdough buns.
Love this recipe and want more?
Try the Pepper & Me Club!
If your after new and creative recipes to use your Pepper & Me products in then our Club is the place for you. For $5NZD a month, we have a library of delicious recipes for you to own your dinner table.