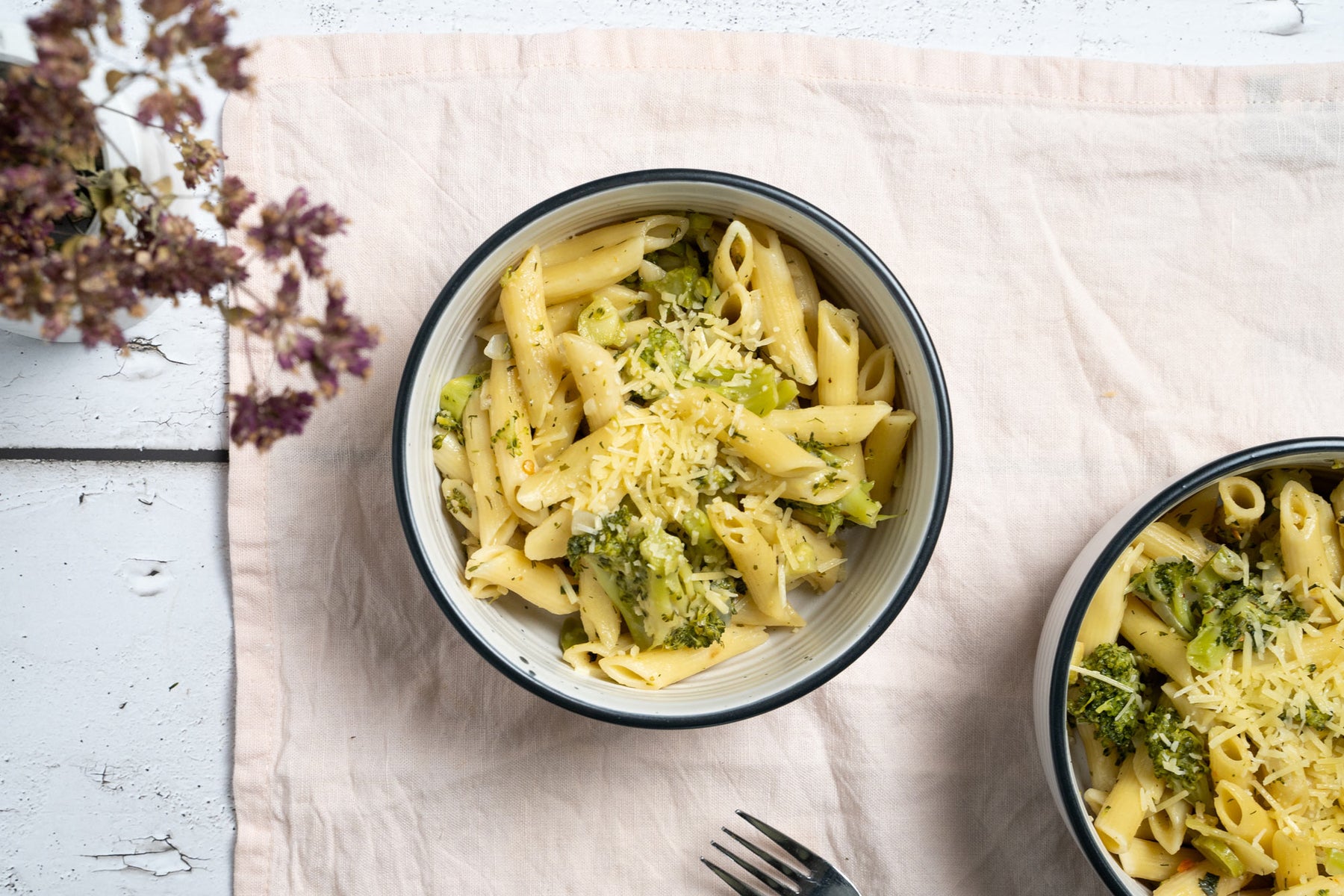 Creamy Broccoli Pasta
< Return To Recipes
Creamy Broccoli Pasta
Comfort food meets cooking on a budget. This dish is a creamy, quick and easy meal. Our Dude Ranch flavours with broccoli take basic pasta to the next level. Ella's choice when cooking on a budget.
Ingredients
1 Broccoli, cut or broken into very small florets, the stalk finely chopped
500g Penne Pasta
Pinch of Man Grind
1 onion, finely chopped
2tsp chopped garlic
3 heaped teaspoons Dude ranch
250ml vegetable stock
½ cup grated parmesan cheese or tasty
Instructions
1:
Steam or boil broccoli florets until very tender (easily pierced with a fork) set aside.
2:
Cook the pasta according to package instructions.
3:
In a large pan, saute the onion, garlic and broccoli stalks until soft and fragrant. Add in the man grind to help break down the veges quicker. Stir in the dude ranch, broccoli, pepper and vegetable stock.
4:
Bring to a gentle simmer and start breaking apart the broccoli with a fork into tiny pieces. As it cooks it will get easier to break apart. You want the broccoli to melt down into a 'sauce'.
5:
Stir in half of the cheese. Continue simmering gently on a low heat until half of the liquid evaporates and it becomes the consistency of a thick sauce, about 10 minutes.
6:
Once the pasta is cooked, strain it off and pour the pasta into the broccoli sauce. Adjust seasoning, top with remaining cheese and enjoy.
Love this recipe and want more?
Try the Pepper & Me Club!
If your after new and creative recipes to use your Pepper & Me products in then our Club is the place for you. For $5NZD a month, we have a library of delicious recipes for you to own your dinner table.