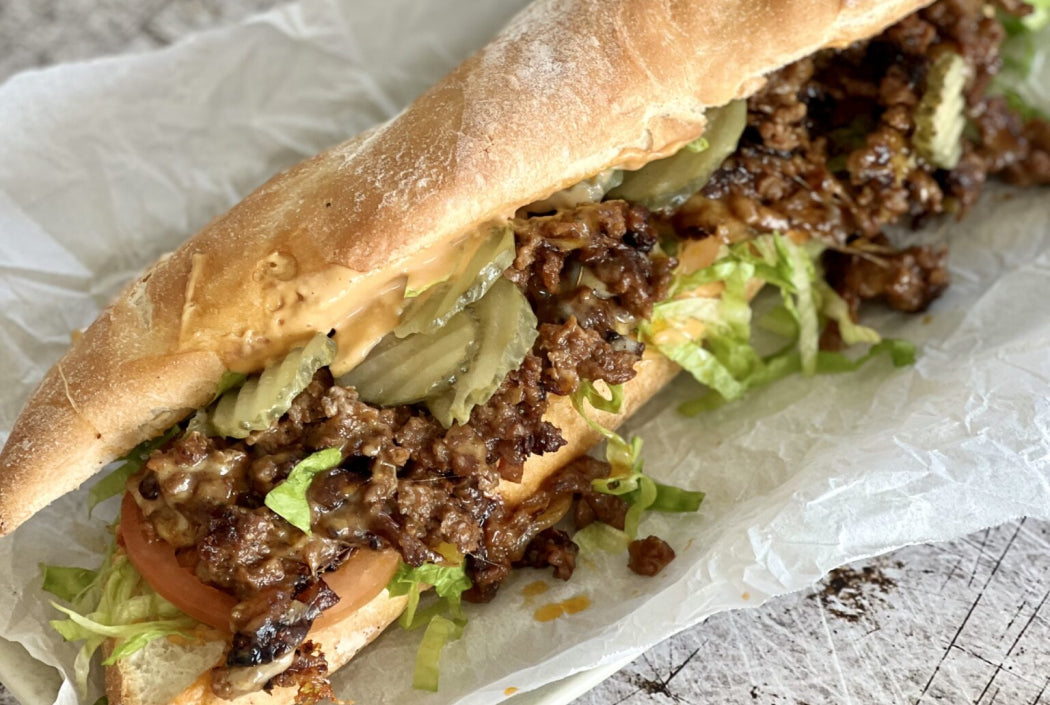 Chopped Cheese Sandwich
< Return To Recipes
Chopped Cheese Sandwich
Packed with savoury ground beef, melted cheese, caramelised onions, and a hint of spice, it's a scrumptious fusion of flavours. 
Move over fried chicken burger there's a new favourite in town

Ingredients
2 small bread sticks or sub rolls
300 g beef mince (see notes)
1 onion
4 slices American cheese
1/2 cup grated mozzarella
1 cup shredded lettuce
Burger Sauce or Aioli
1 tomato, sliced
pickles
2 tsp Man Rub
1 heaped tbsp Fry Yay
Instructions
1:
Add the mince to a bowl and add Man Rub and Fry Yay. Thinly slice onion.
2:
Mince the mince well to incorporate the seasoning.
3:
Heat a large pan or bbq hot plate and drizzle with a little oil. Add the half the sliced onion and cook for one minute.
4:
Arrange half the mince on top of the onions. You want to keep the mince flat, like a loosely formed long pattie, using a spatula to press the mince down, cook for a minute or two while a crust starts to form.
5:
Carefully flip the mince and onions and using a spatula shape back into the long pattie. Then using a spatula work down the pattie chopping it slightly but keeping in the long shape.
6:
Add two cheese slices.
7:
Cover with a bowl or lid for 30 seconds to help melt the cheese.
8:
Add the grated cheese , and now fully chop the cheese in the mince. Folding it on its self while still fry in the pan.
9:
Slice the bread rolls open horizontally and warm in the oven if you like!
10:
Spread each side with burger sauce or aioli and add half the shredded lettuce and half the sliced tomato.
11:
Carefully transfer the cheesy mince into the bread roll, top with sliced pickles.
12:
Repeat with the remaining ingredients for a second chopped cheese.
13:
Cut in half and serve, you will end up with four "six inch" kind of sandwiches.
Love this recipe and want more?
Try the Pepper & Me Club!
If you're after new and creative recipes to use your Pepper & Me products in then our Club is the place for you. For $5NZD a month, we have a library of delicious recipes for you to own your dinner table.