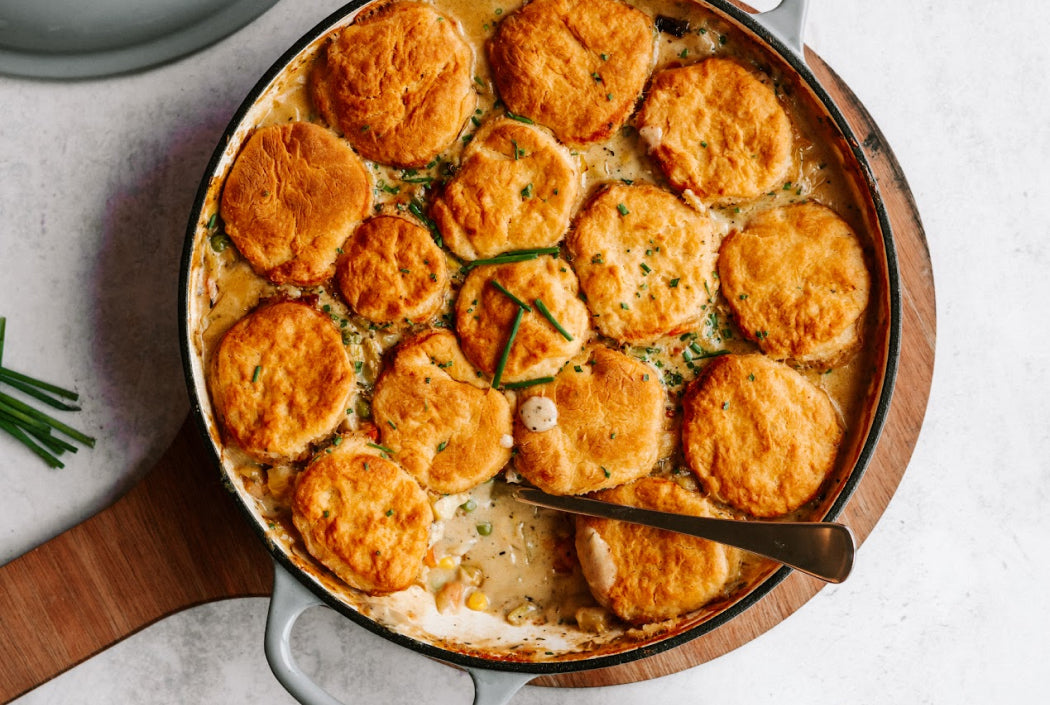 Chicken Pot Pie with Flaky Biscuit Topping
< Return To Recipes
Chicken Pot Pie with Flaky Biscuit Topping
An American twist on a traditional Chicken and Vegetable Pie by using a flaky biscuits topping rather than pastry!

Ingredients
500 g boneless chicken thighs, diced
1 leek
2 carrot, diced
2 tbsp butter
2 tsp Italian Stallion
2 potatoes, peeled and diced
1 cup cream
1 cup milk
1 chicken stock cube
1/2 cup frozen corn
1/2 cup frozen peas
2 tbsp corn flour
1/4 cup water
Man Grind
Flakey Biscuit Topping
2 cups flour
2 tsp baking powder
1/2 tsp baking soda
1 tsp Man Rub
140g cold butter, diced
1 cup butter milk (or 1 cup whole milk with 1tbsp white vinegar)
1/2 cup grated cheese
Instructions
1:
Preheat oven to 200C.
2:
Saute leek and carrot, in butter, over a medium high heat for two minutes. Add chicken and Italian Stallion and brown for another 2 minutes. Either use a large oven safe fry pan or casserole, or transfer to a baking dish for the final steps.
3:
Add milk, cream, potato and stock cube to the pan, simmer for 8 minutes. Season with Man Grind.
4:
While the filling is simmering, prepare the biscuit topping. Place flour, baking powder, baking soda, butter and Man Rub into the bowl of a food processor. Pulse until it resembles crumbs with some chunks of butter still visible. If you don't have a food processor you can use your hands to rub the butter into the flour.
5:
Add buttermilk to the food processor and pulse until it comes together into large chunks of dough and the dry flour is incorporated.
6:
Tip out onto a floured surface or piece of baking paper, bring together to form a dough.
7:
Roughly press or roll out to about 1.5cm thick, cut round biscuits using a glass or cookie cutter. Note the visible butter in the dough, this will help give that flaky texture. Repeat until all dough is used.
8:
Returning to the filling, mix the cornflour and water together to form a slurry and pour in to thicken the sauce. Add frozen corn and peas and allow to thicken for a minute or two.
9:
If you are not using an oven safe pan or casserole dish transfer the filling to appropriate dish at this stage.  Arrange biscuits on top of the filling.
10:
Sprinkle with grated cheese. 
11:
Bake in the oven for 18-20 until biscuits have puffed up and cheese is golden. Allow to sit for 5 minutes before serving as it will be very hot!
Recipe Notes
This can easily be made into a vegetarian dish by omitting the chicken and adding additional vegetables such as sweet potato and mushrooms
Love this recipe and want more?
Try the Pepper & Me Club!
If you're after new and creative recipes to use your Pepper & Me products in then our Club is the place for you. For $5NZD a month, we have a library of delicious recipes for you to own your dinner table.