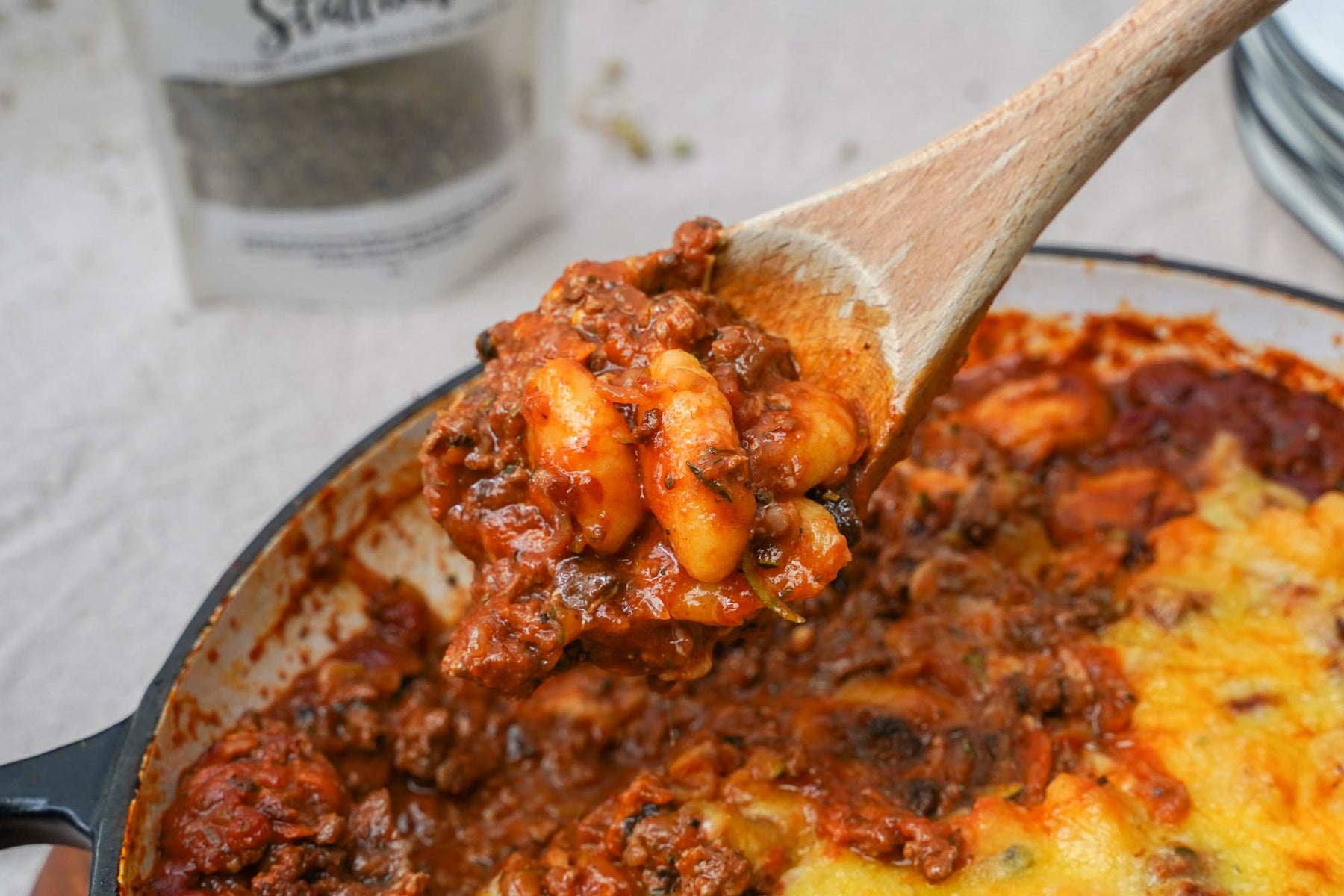 Beef and Gnocchi Bake
< Return To Recipes
Beef and Gnocchi Bake
Gluten-Free
To all the Gluten-Free People out there, this one is for you! A classic Gnocchi Bake with the aromatic Italian Stallion herb blend. A comforting bake perfect for the cooler Winter Nights.
This recipe was created with our friends at the Gluten Free Shop.
Check them out for a wide range of Gluten-Free products.
Instructions
1:
Saute diced onion in olive oil for a couple of minutes before adding mince and mushrooms to brown. Add Italian Stallion.
2:
Stir through grated carrot and grated zucchini.
3:
Bring a large pot of salted water to a boil. Cook the Gluten-Free Gnocchi according to the directions on the packet, approximately three minutes or until they are soft and floating to the surface.
4:
Add tomato paste, canned tomatoes, 1/2 cup of water, Man Rub, sugar and half a bag of baby spinach to the sauce. Simmer over a medium to high heat for 10 minutes to reduce to a thick sauce. At this point taste the sauce and season with Man Grind accordingly.
5:
Drain gnocchi well and toss through the sauce. Transfer to an oven dish.
6:
Top with grated cheese and Bake for 15 minutes at 200C. Once Baked, Serve warm.
Love this recipe and want more?
Try the Pepper & Me Club!
If your after new and creative recipes to use your Pepper & Me products in then our Club is the place for you. For $5NZD a month, we have a library of delicious recipes for you to own your dinner table.