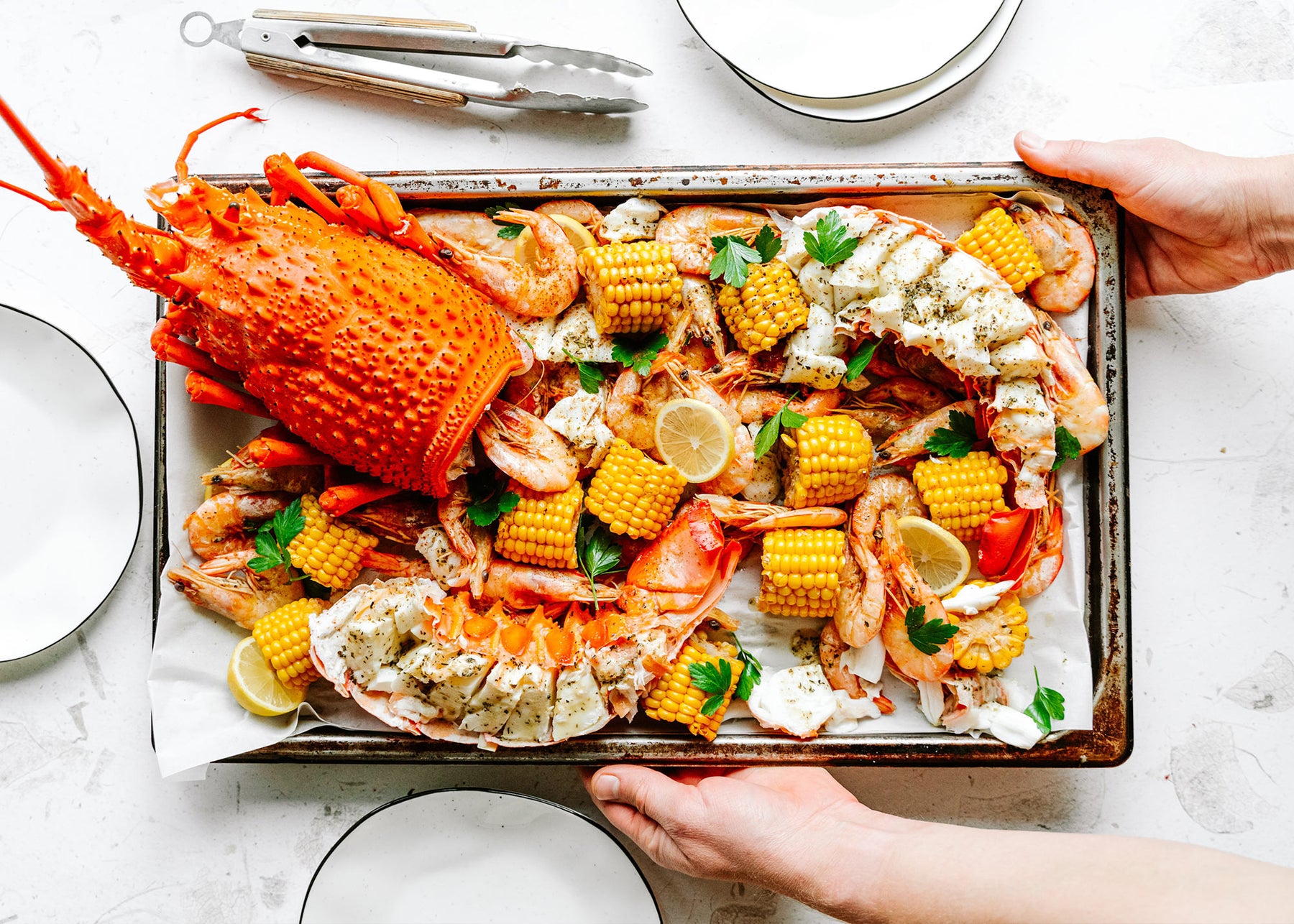 Seafood Boil With New Bae Seasoning
And On The
4th
Day Of Christmas, We Are Serving
Seafood Boil

With New Bae Seasoning
This is a very American style of food and cooking that we are starting to see a lot more here in NZ. A seafood boil can consist of anything you like, chorizo, corn, potatoes, crab, mussels, prawns, crayfish, tuatuas. The water is a really hefty seasoning with New bae, and simmer away to your heart's content. Serve with a glorious soft garlic butter to dip the seafood in.
Ingredients
1 - 2kg Assorted Seafood (prawns, clams, crab, crayfish)
600g Baby Potatoes
3 cobs of Corn (cut into 4s)
1 Onion (cut into wedges)
3 cloves Garlic (crushed)
2 Lemons
4 tbsp New Bae Seasoning
500g Smoked Sausage (kielbasa, rookworst, kabbanos)
3L Water
50g Butter (melted)
15g Parsley (finely chopped)
Instructions
1
Add the water to a very large pot or oval casserole and bring to a boil. Add New Bae seasoning to the water along with onion and garlic. Add potatoes and boil for 8 minutes.
2
If using a crayfish or crayfish tail, add this now and cook for 5 minutes. Next, add the corn, sausage (cut into chunks) and smaller seafood such as prawns and clams and cook for a final 5 minutes.
3
Reserve half a cup of the cooking liquid, then drain the broth off the seafood.
4
Arrange the seafood, potatoes, corn and sausage on a large platter.
5
Whisk together the reserved broth, melted butter and chopped parsley.
To Serve
Drizzle some of this sauce over the seafood and serve alongside lemon wedges.
Alternatives
Vegetarian: Use corn, potatoes, asparagus, baby carrots, boil and the serve with garlic butter.
Missing out on the Advent Calendar fun & excitement for 2022?
Its never to early to start thinking about Christmas......Even when it's the Christmas of 2023. We sold out of our Advent Calendars for 2022 but if your wanting to keep upto date with our plans for next year then let us know your details below and we will keep you in the loop that way.
Love this recipe and want more?
Try the Pepper & Me Club!
If your after new and creative recipes to use your Pepper & Me products in then our Club is the place for you. For $5NZD a month, we have a library of delicious recipes for you to own your dinner table.