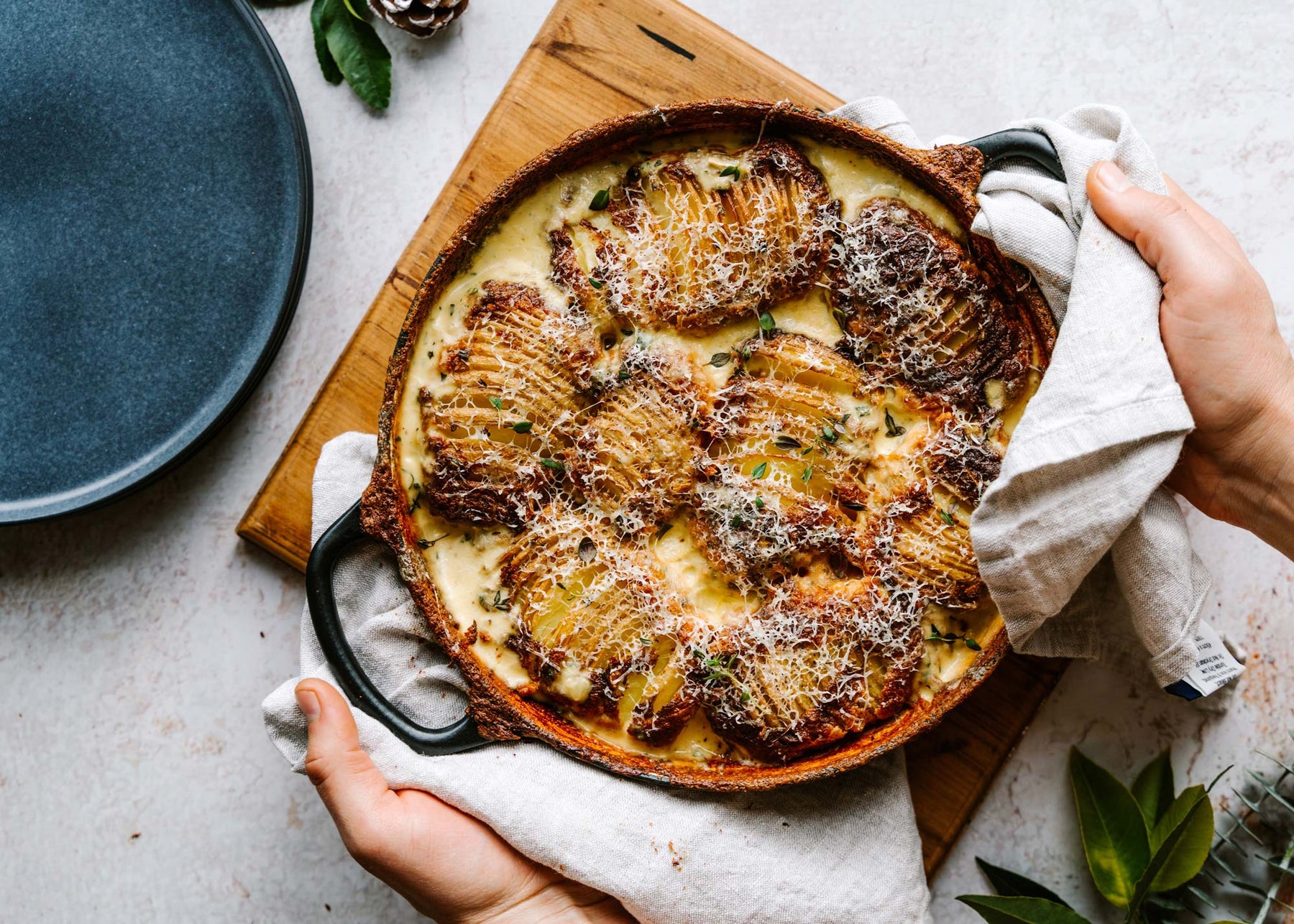 Potato Bake With Hot Potato, Hot Potato Seasoning
And On The
3rd
Day Of Christmas, We Are Serving
Potato Bake

With Hot Potato, Hot Potato Seasoning
A delicious potato bake, made with a slightly different technique to give you something super impressive on the table. Load the spuds with shaved parmesan and fresh herbs to garnish.
Ingredients
Potato Bake
35g Hot Potato, Hot Potato seasoning (½ bag)
700g Agria Potatoes
1 large Onion
2 cups Cream
1 cup Stock (Vegetable or Chicken)
1 cup Grated Cheese
Man Grind
Instructions
1
Preheat oven to 180ºC Fan Bake.
2
Peel potatoes and thinly slice, a food processor or mandolin is great for this.
4
In a sauce pan gently heat cream and stock until simmering and whisk in Hot Potato, Hot Potato seasoning. Remove from the heat.
5
In a large shallow casserole layer sliced potatoes and onions, seasoning the layers with a little Man Grind as you go.
6:
Once the potatoes are layered, pour the hot cream mix over.
7:
Pop in the oven and bake for 45 minutes.
8:
Carefully remove from the oven and sprinkle over the cheese and return to the oven for another 10 minutes or until cheese is golden and bubbly. Always test your potatoes are cooked through. Extend cooking time as needed.
Alternatives
Mix contains bacon bits and milk powder. Unable to use for Dairy Free or Vegetarian options.
Missing out on the Advent Calendar fun & excitement?
With same day shipping its still possible to join in on the action. Order yours today and we will get it to you in no time!
Love this recipe and want more?
Try the Pepper & Me Club!
If your after new and creative recipes to use your Pepper & Me products in then our Club is the place for you. For $5NZD a month, we have a library of delicious recipes for you to own your dinner table.