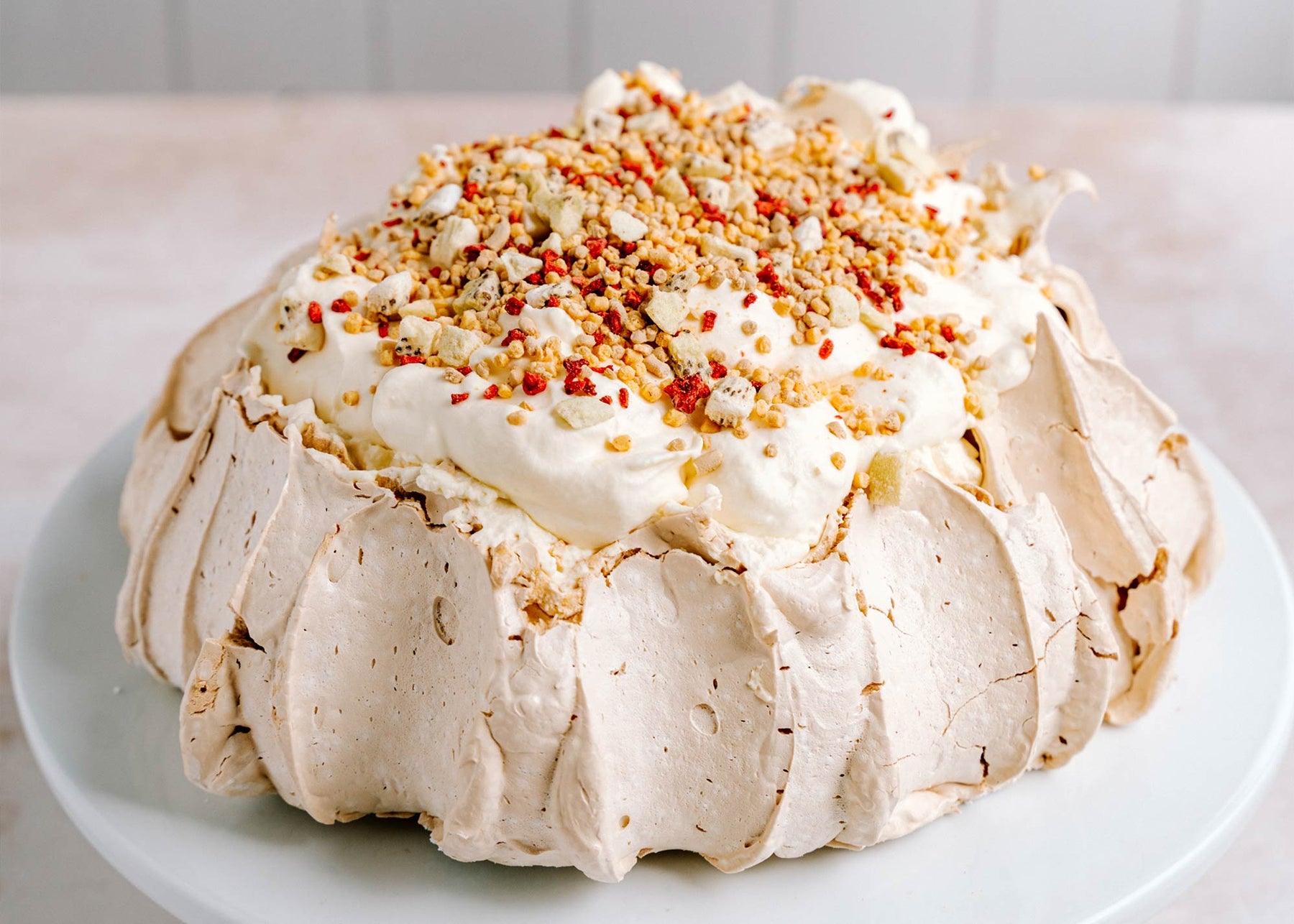 Classic Pavlova With Pimp The Pav
And On The
2nd
Day Of Christmas, We Are Serving
Classic Pavlova

With With Pimp The Pav
A little twist on a standard pav - This recipe is easy and looks really cool on a cake stand. A great alternative use for this product is to layer crushed meringues, whipped cream, and pimp the pav in a clear glass with strawberry and kiwi fruit slices, for a pretty dessert option that only takes ten minutes.
Ingredients
200g Room Temp Egg Whites (about 6 large eggs)
320g Castor Sugar
1 tsp Cream Of Tartar
1 tbsp Cornflour
500ml Cream
1 tsp Vanilla Extract
1 tbsp Icing Sugar
Pimp The Pav Topper
Instructions
1:
Beat egg whites and cream of tartar to soft peaks.
2:
Gradually add sugar a few tablespoons at a time on a medium to high speed. Keep adding until all the sugar is added, and beat until all the sugar is dissolved. Rub some between your fingers to check it's dissolved. You shouldn't feel any sugar granules.
3:
Then beat in cornflour.
4:
Shape onto a lined baking tray.
5:
Bake at 120ºc fan bake for 3 hours then turn the oven off and leave to cool. Do not open the door at any stage.
6:
To assemble the pavlova, whisk the cream with vanilla and icing sugar to form soft peaks, do not over whisk. Cover the top of the pavlova in whipped cream just before serving and sprinkle over the Pimp The Pav topper. Serve immediately.
Alternatives:
Dairy Free: Use whipped coconut cream instead of cream.
Missing out on the Advent Calendar fun & excitement for 2022?
Its never to early to start thinking about Christmas......Even when it's the Christmas of 2023. We sold out of our Advent Calendars for 2022 but if your wanting to keep upto date with our plans for next year then let us know your details below and we will keep you in the loop that way.
Love this recipe and want more?
Try the Pepper & Me Club!
If your after new and creative recipes to use your Pepper & Me products in then our Club is the place for you. For $5NZD a month, we have a library of delicious recipes for you to own your dinner table.