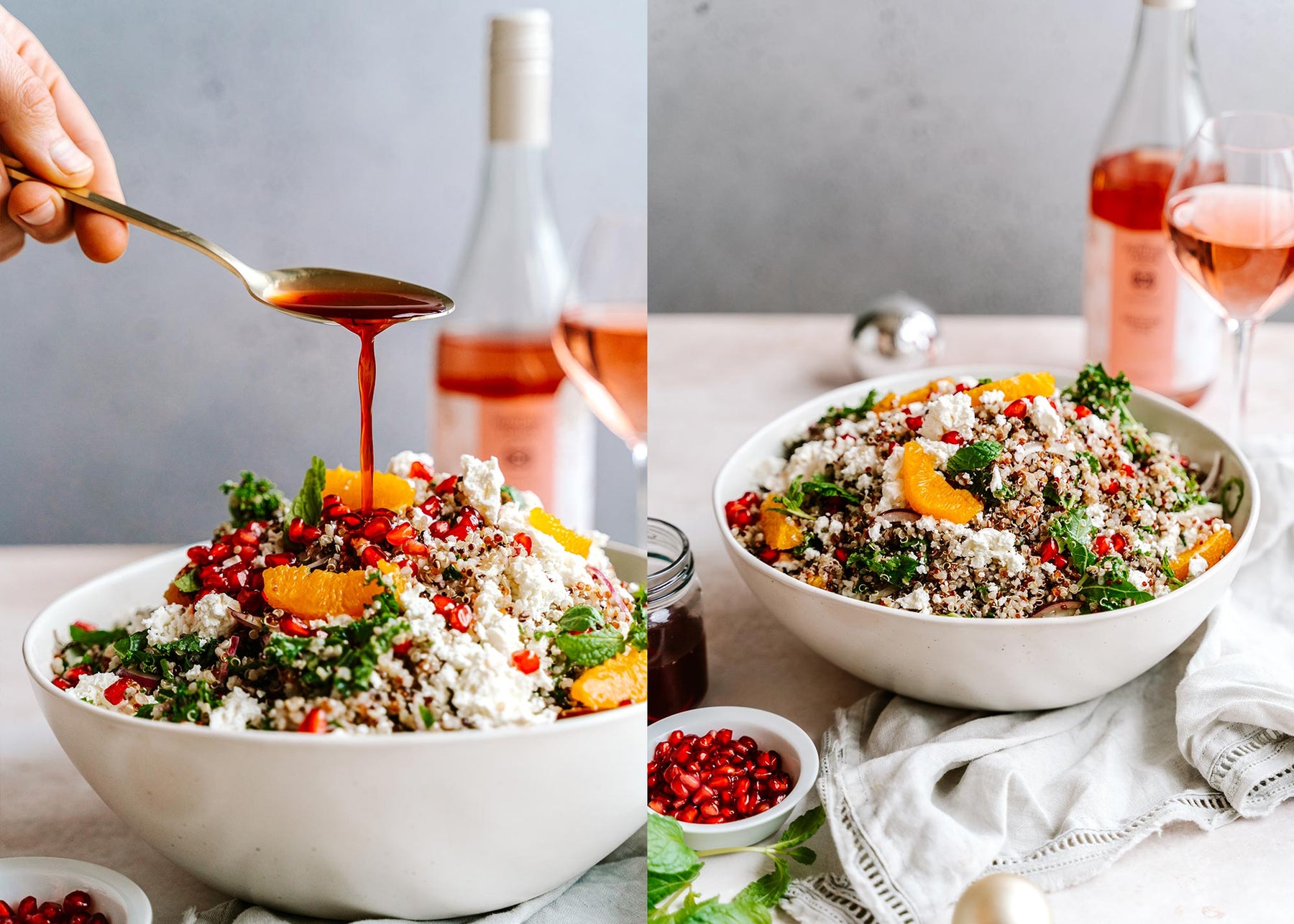 Quinoa & Pomegranate Salad With Long Lunch Dressing
And On The
20th
Day Of Christmas, We Are Serving
Quinoa & Pomegranate Salad

With Long Lunch Dressing
This is my new favourite recipe! It's absolutely delicious. The mint brings a fresh kiss that works beautifully with the pomegranate and creamy feta. It's epic for Christmas Day, or for any BBQ or bring a plate event, even just for the family dinner!
Ingredients
400g Tri Coloured Quinoa
75g Kale (shredded)
⅓ cup Long Lunch Dressing
1 tsp Man Grind
100g Pomegranate Arils
10g Mint (finely chopped)
2 Oranges
100g Feta
Instructions
1
Boil quinoa in a large pot of water for 15 minutes, drain water and set aside.
2
Remove the woody stem of the kale and shred finely. Add the kale to a large bowl and massage in the dressing.
3
Add quinoa and zest of two oranges.
4
Cut the peel from the oranges and cut into segments. Add the segmented oranges to the quinoa and kale with the mint and pomegranate arils, season with Man Grind.
5
Crumble over the feta to garnish.
Alternatives
Dairy Free: Leave out the feta.
Missing out on the Advent Calendar fun & excitement for 2022?
Its never to early to start thinking about Christmas......Even when it's the Christmas of 2023. We sold out of our Advent Calendars for 2022 but if your wanting to keep upto date with our plans for next year then let us know your details below and we will keep you in the loop that way.
Love this recipe and want more?
Try the Pepper & Me Club!
If your after new and creative recipes to use your Pepper & Me products in then our Club is the place for you. For $5NZD a month, we have a library of delicious recipes for you to own your dinner table.