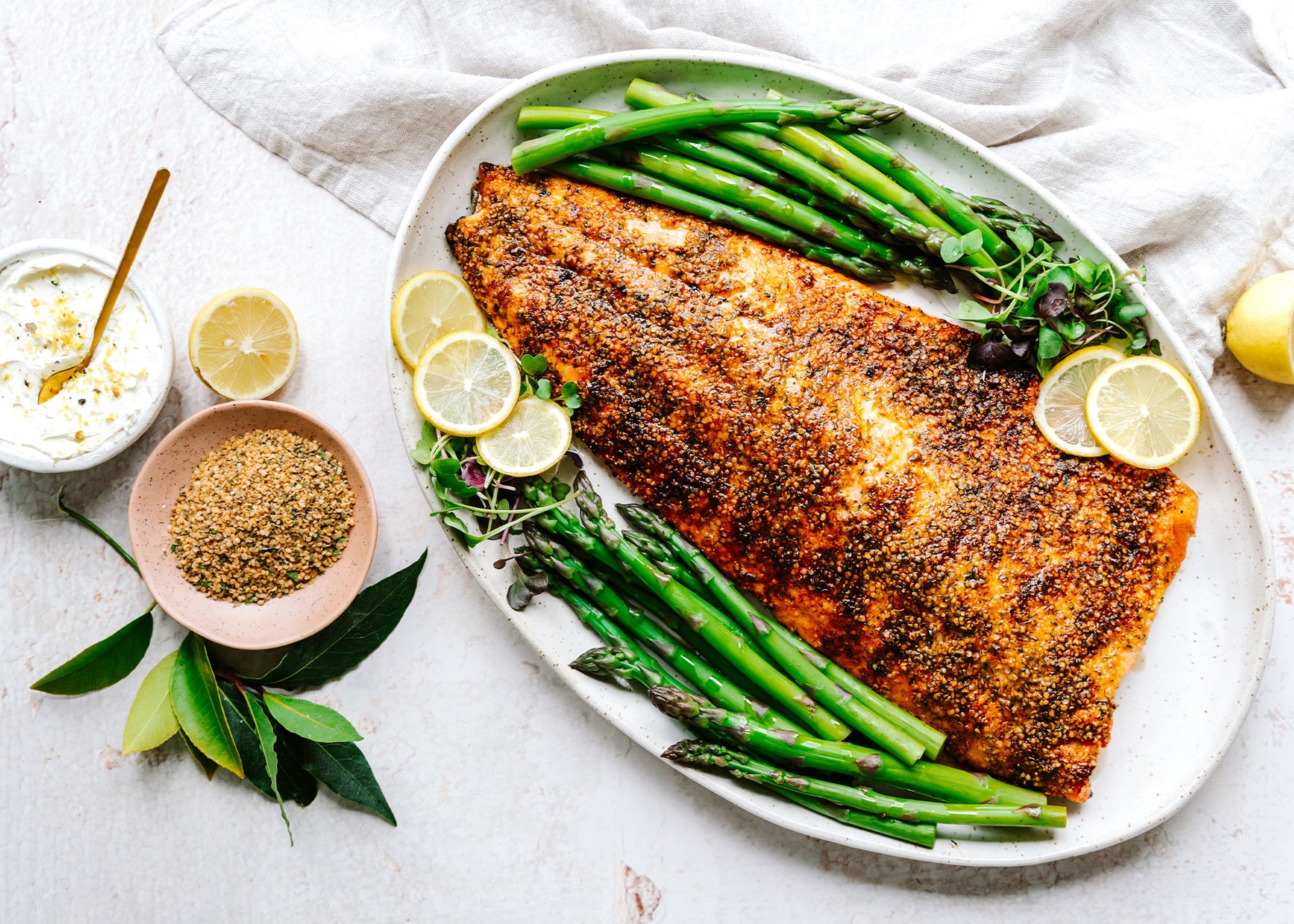 Crusted Salmon Fillet With Salmon Dance Seasoning
And On The
6th
Day Of Christmas, We Are Serving
Crusted Salmon Fillet

With Salmon Dance Seasoning
A delicious crust made for delicate salmon with NZ hemp hearts and a light BBQ flavour. Use this on smaller salmon pieces if you don't want to do a large fillet, it works perfectly for that too. It's even a great crust for lamb rack or chicken, if salmon is not your thing!
Ingredients
1 side of salmon (pin bones removed, skin on)
35g Salmon Dance
3 tbsp Aioli
3 tbsp Olive Oil
600g Asparagus
1 Lemon
Instructions
1
Light your BBQ or preheat oven, and ideally have them sitting at 200°c.
2
Check your salmon for any remaining bones and pat it dry. Oil a piece of tin foil and place on a baking tray. Place the fillet, skin side down, onto the tin foil.
3
Brush Aioli across the whole surface of the salmon, then sprinkle Salmon Dance seasoning over.
4
Place the salmon in the BBQ (or oven), for 15 minutes, depending on how well you would like it cooked. If you prefer it more well done, give it 20 minutes.
5
While the salmon is cooking, place asparagus into a bowl. Drizzle with olive oil, lemon juice and zest. Pop onto the BBQ (or oven) for the last 5 minutes of cooking.
6
Remove the salmon from the BBQ (or oven) and serve on a platter with the asparagus. To plate the salmon, you can use a knife or simply break away chunks with tongs, it will slide right off the skin.
Alternatives
Vegetarian: Use to sprinkle on top of roast carrots before roasting, or use as a crumb for eggplant slices as a beautiful veggie option.
Missing out on the Advent Calendar fun & excitement for 2022?
Its never to early to start thinking about Christmas......Even when it's the Christmas of 2023. We sold out of our Advent Calendars for 2022 but if your wanting to keep upto date with our plans for next year then let us know your details below and we will keep you in the loop that way.
Love this recipe and want more?
Try the Pepper & Me Club!
If your after new and creative recipes to use your Pepper & Me products in then our Club is the place for you. For $5NZD a month, we have a library of delicious recipes for you to own your dinner table.