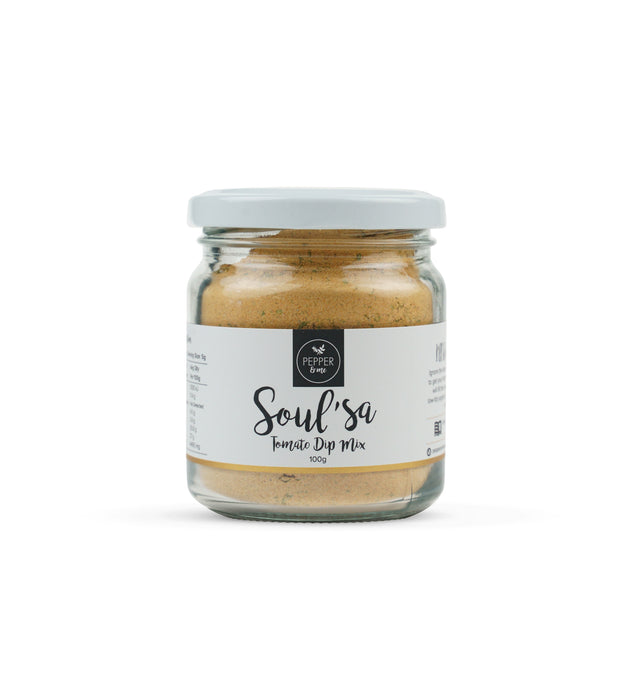 Soul'sa Dip Mix
Sold out
Original price
$9.95
-
Original price
$9.95
Ignore the dance lessons, Our Soul'sa Dip Mix is the real way to get your hips moving. The aromatic notes of a classic Salsa will fill the room once mixed into sour cream or low-fat yoghurt. Even use plain hummus as a dairy-free option. A super fast & crowd-pleasing dip.
Ingredients
Storage
Instructions
Tomato Powder, Onion Powder, Smoked Paprika, Tomato Flakes, Sea Salt, Cumin, Coriander, Coriander Leaves, Lemon Pepper Seasoning Blend (Salt, Dextrose (maize), Black Pepper, Acidity Regulator (330), Dehydrated Onion, Black Pepper Extract, Colour (102), Flavour), Basil

Store in a cool dry place. Use within 3 months of opening.

Mix 2 tbsp with 150gm of sour cream and a splash of lemon juice to taste. Mix well and leave to sit for 10 minutes.

Alternatively, mix 3 tbsp of the soul'sa dip mix with 1 tin of chopped tomatoes, and 1/2 diced white or red onion, to use as a topping for enchiladas, or as a delicious quick and easy salsa style dip for corn chips.

If you don't have sour cream on hand, try reduced cream or greek yoghurt, and just make sure you add a nice squeeze of lemon to sharpen up the flavours.