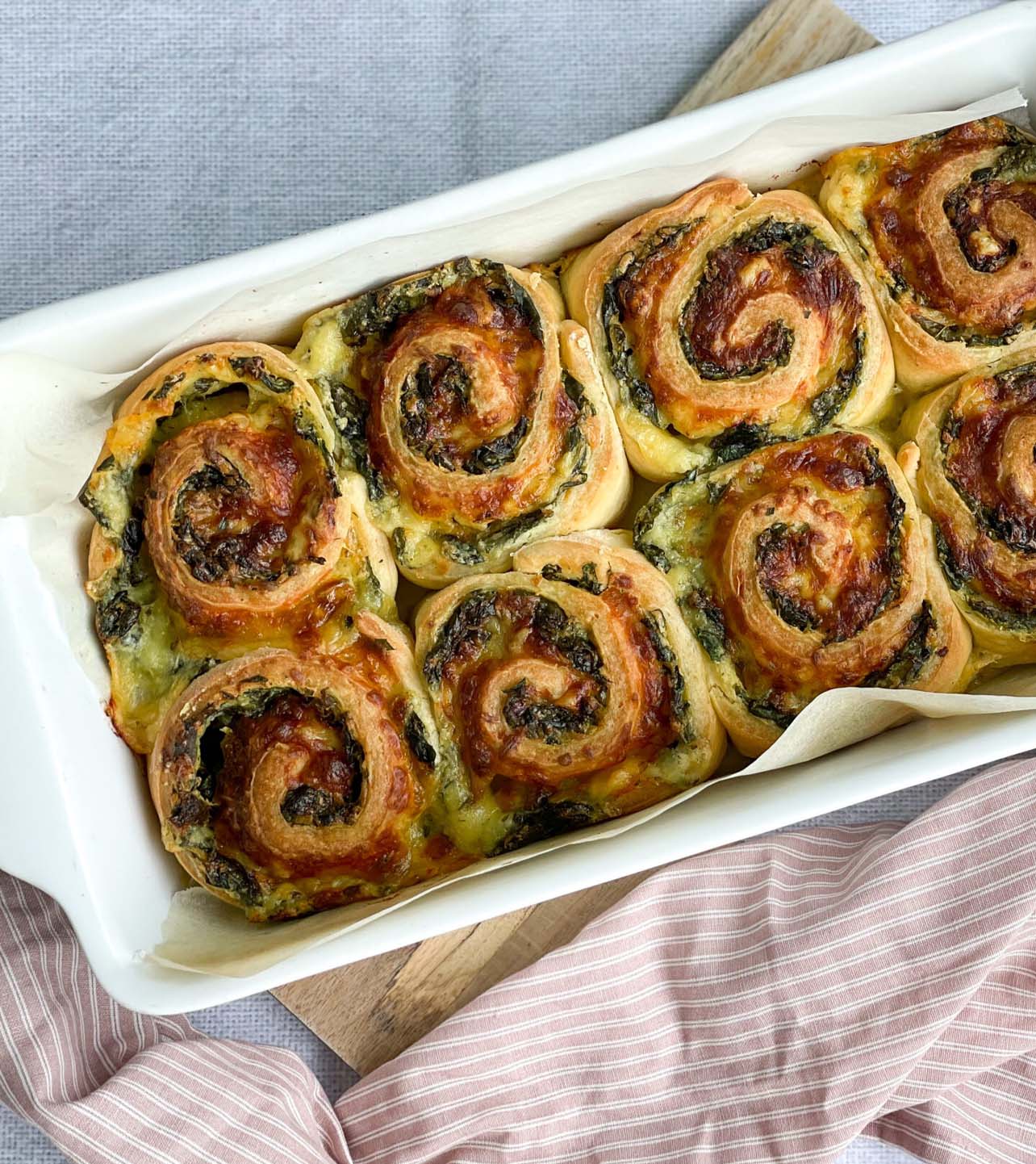 Cheesy Spinach Ranch Scrolls
< Return To Recipes
Cheesey Spinach Ranch Scrolls
These cheesy, spinachy, Dude Ranchy scrolls are next level tasty. Impress the family with these for lunch soon!

Ingredients
Dough
2 cups high grade flour
3 tsp baking powder
100g butter, cut into cubes
1 cup milk
Pinch man grind
Filling
120g cream cheese
2 tbsp mayonnaise (Best Foods is my favourite)
2 tbsp Dude Ranch
1 tsp Man Grind
120 gram bag baby spinach
3/4 cup cheddar cheese
3/4 cup tasty cheese
1 1/2 cups mozarella cheese
Instructions
1:
Add all the filling ingredients into a food processor and blitz until combined.
3:
In a large bowl mix together the flour and baking powder. 
4:
Add the cubed butter and, using your fingertips, massage the butter into the flour until the butter is all broken up and the flour and butter mixture looks like crumbs.
5:
Add the milk and mix until a dough starts to form.
6:
Turn the dough out onto a lightly floured bench and knead until the dough becomes smooth and is no longer sticky. You may need to keep adding flour to the bench while you do this until it is no longer sticky.
7:
Roll your dough out into the shape of a rectangle and is 1/2cm thick.
8:
Grab the filling and spread this across the dough until all the dough is covered.
9:
Starting at a long edge, roll the dough up until it meets the other edge. Place the seam side down and, using a sharp knife, cut into eight equal sized scrolls.
10:
Line a 40cm x 20cm baking dish with baking paper and place the scrolls, filling side down, in two rows a couple of centimetres apart.
11:
Place in the oven and cooke for 40 minutes or until golden and cooked through.
12:
Allow to cool for a few minutes, remove from the baking dish and serve.
Love this recipe and want more?
Try the Pepper & Me Club!
If you're after new and creative recipes to use your Pepper & Me products in then our Club is the place for you. For $5NZD a month, we have a library of delicious recipes for you to own your dinner table.