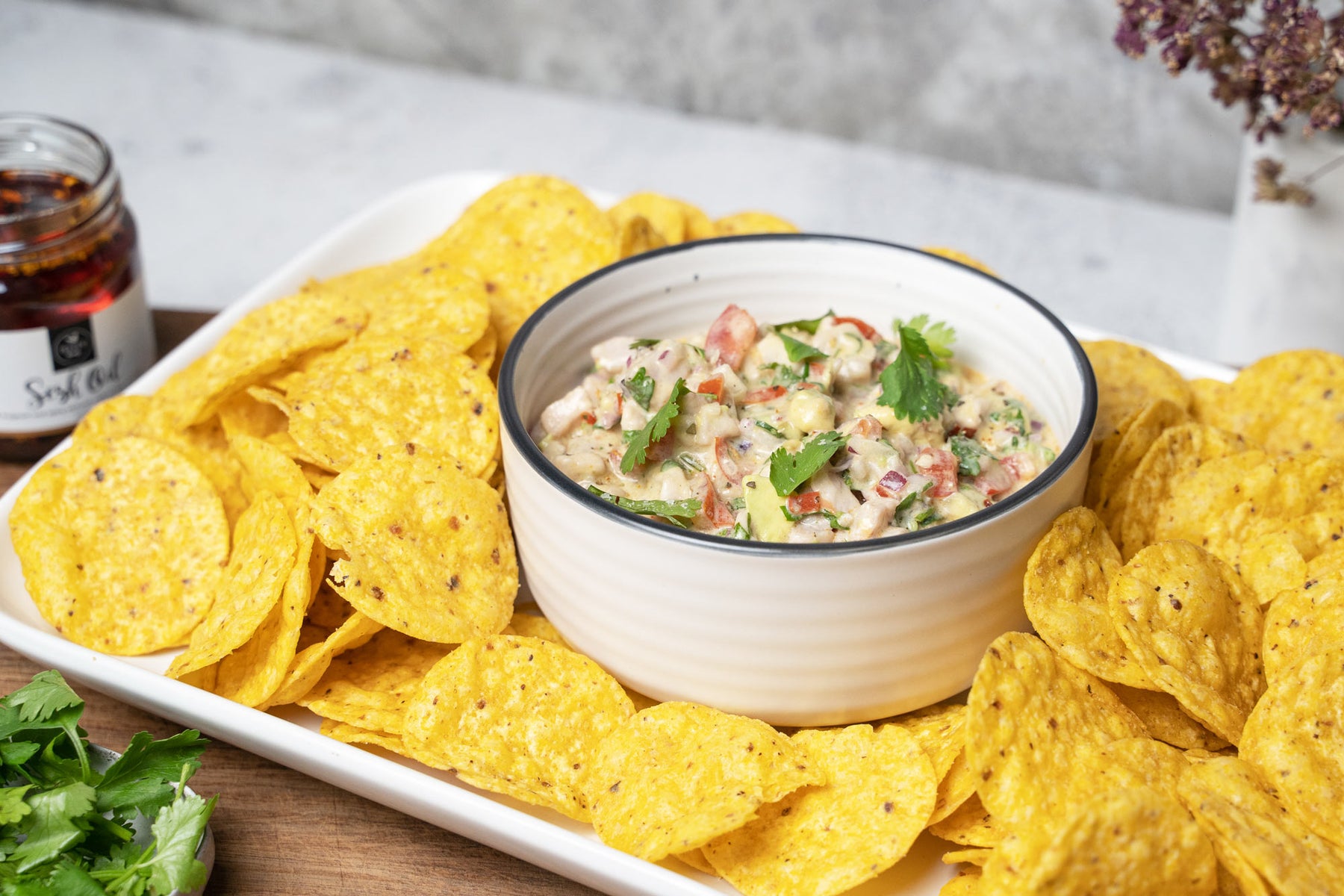 Ceviche
< Return To Recipes
Ceviche
This is a traditional ceviche with a Pepper & Me twist. With fresh raw fish doused in citrus and our famous sesh oil. It packs a slight heat that is perfect with the freshness of fish straight from the docks. Fresh herbs, coconut cream and avocado make this dish the ideal pairing of acid, fat, salt & heat! Delicious is an understatement.
Ingredients
300g very fresh, white flesh fish (Kingfish is a fav)
2 tomatoes
20g chives, coriander or fresh parsley
1 small red onion
Juice of two lemons
1 avocado
⅓ cup coconut cream
1 tsp sesh oil (or more, to taste)
1 tsp man grind Corn chips to serve
Instructions
1:
Dice the fish fillets, checking carefully for bones. You want nice small even bits about 0.5cm square. Add to a small bowl, and cover with the juice of the two lemons. Pop aside in the fridge to marinate.
2:
Quarter the tomatoes, remove the seeds and finely dice the flesh. Finely dice the red onion, and chop the herbs. Dice the avocado.
3:
Remove the fish from the fridge and drain the excess lemon juice off. Add the tomato, onion and herbs. Fold through the coconut cream and season well with the sesh oil and man grind - to taste. Fold through the avocado lastly being careful not to let it mush.
4:
Serve with corn chips - yum!
Love this recipe and want more?
Try the Pepper & Me Club!
If your after new and creative recipes to use your Pepper & Me products in then our Club is the place for you. For $5NZD a month, we have a library of delicious recipes for you to own your dinner table.