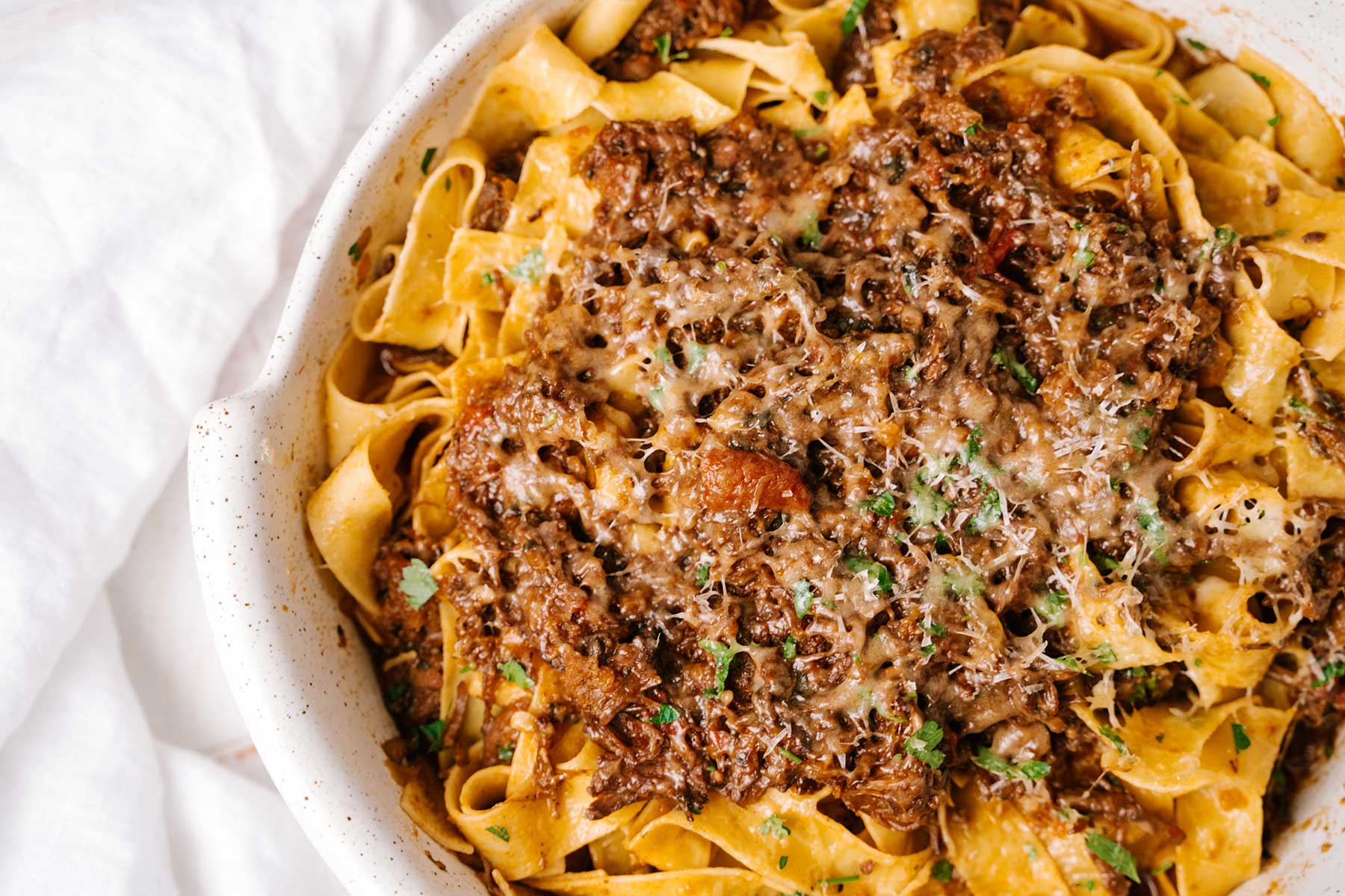 Bone Broth Ragu
Ingredients
1.5 / 2 kg of Assorted Meat
2 Carrots
2 Onions
8 Cloves Garlic (crushed)
2 Cans Cherry Tomatoes or Chopped Tomatoes
1/2 Cup Tomato Paste
Olive Oil
Man Grind
2 Sprigs Rosemary
1/2 Cup Red Wine
750ml Mitchell's Man Grind infused Bone Broth (30g Powder, 750ml Water)

Instructions
1:
For this dish we used a kitco oval casserole, this makes a big batch, you can half the recipe for a small quantity.
2:
Using a food processor finely chop onion, carrot and celery set aside.
3:
Season assorted meat well with man grind and brown pieces in a cast iron pan with a good drizzle of olive oil. Remove from the pan and continue until all the meat is brown. Do this in batches.
4:
Add some more olive oil to the pan and add chopped garlic, onion, celery and carrot. Sauté for a few minutes.
5:
Add bone broth to deglaze the pan, cook off for a minute.
6:
Add canned cherry tomatoes, rosemary and tomato paste to the dish and return the meat to the pan. Top with beef stock and lots of chopped parsley.
7:
This needs 3.5 to 4 hours at 160 C fan bake, covered. It needs to be cooked low and slow until the meat is falling apart.
8:
Remove from the oven and remove the meat from the sauce, place in a large board and shred the meat.
9:
Return the shredded meat to the sauce. If it feels too dry you can add a touch more wine or stock to rehydrate it slightly, around 1 cup.
10:
Serve tossed through pasta of your choice. We love egg pappardelle and finish with a generous grating of Parmesan.
Love this recipe and want more?
Try the Pepper & Me Club!
If your after new and creative recipes to use your Pepper & Me products in then our Club is the place for you. For $5NZD a month, we have a library of delicious recipes for you to own your dinner table.