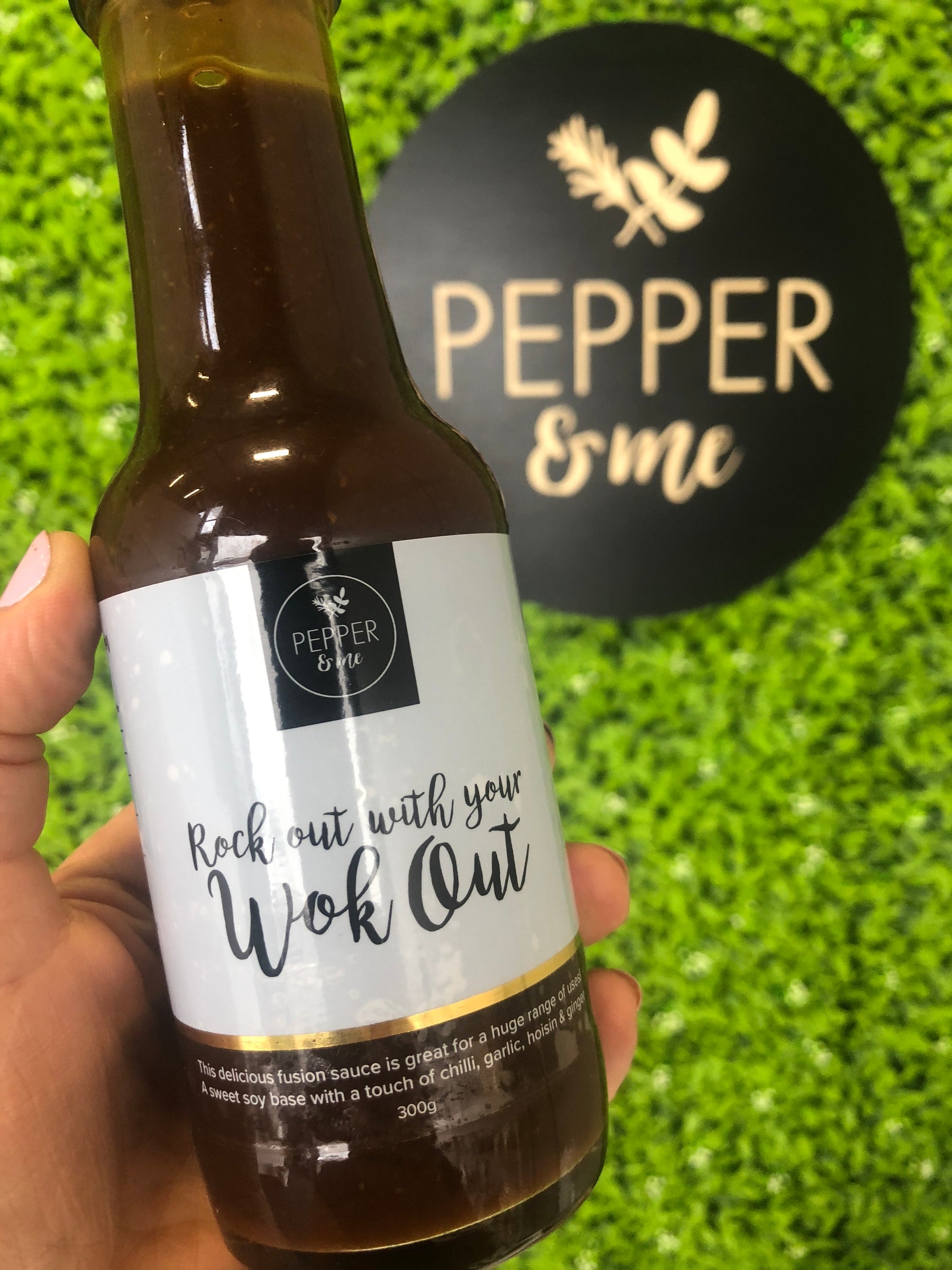 Rock out with your Wok Out is back!
We're super excited to announce the eagerly awaited return of our famous Pepper & Me "Rock out with your Wok Out" sauce!                                               
We'll be releasing our first commercially produced batch of Wok sauce this Thursday, 22nd February at 7.30pm  we advise setting alarms so you don't miss out!
Our Wok sauce has a soy base with punchy ginger, garlic, hoisin and a touch of chilli. Its a delicious fusion sauce, perfect with your favourite stir-fry meat and veggies (as either a marinade, stir fry sauce or to drizzle over the top!
Try mixing it with some crunchy peanut butter for a sensational chicken satay or pop in the slow cooker with some diced gravy beef to create a mouth watering Chinese braised beef dish.
The sauce is a little thinner than previous batches, as so many of you were enjoying it as a dipping sauce for dumplings or a pouring sauce on top of any meat or veggies. We hope you love it as much as we do! One bottle does three meals in our household, more if you are mainly using as a marinade. 
Tonight release will also see the return of our AMAZING chipotle & Lime salt, and a bigger bag of the delicious lemon & herb crumb. The bigger bag will do around 3 family meals so is great value! We only have 140 of these available so as always, you will need to be quick. We also have our wooden grinders back in stock, and fancy vinyl labels for all your salt blends! 
You will also note the new pick up option on our website! If you are in the BOP and fancy a trip out to the lakes any time, save your self $6.95 and pop out to our warehouse to collect your order. We are located at 16/16 Paerangi place, which is at the very very end of Taurikura road (past the Pak n save and shops) - We are the last road on the right. 
If you're after some recipe inspiration, try one of our suggestions below or share your fav Wok sauce with us.
Simple & Delicious Stir Fry with Cashews
Ingredients
4 cups of your favourite Veggies (broccoli, beans, zucchini, carrots, onion, capsicum)

500gms of chicken, beef, prawns or tofu marinated in a little wok sauce

100gms Wok Sauce

Cashews
Method - Pop a pot of water on and bring to the boil, while your heating up a large wok or pan. Add a few tsp of coconut oil to the wok and add your marinated protein, stir fry for a few minutes with onions and capsicum. Blanch the other veg in the boiling water for around a minute, then drain and add to the wok one the meat is almost cooked. Add the rest of the sauce and cashews and serve with rice or noodles.  
Satay Chicken
Ingredients
100gms Wok Sauce

70gms Peanut Butter

½ cup coconut cream

500gms Chicken thigh diced

Handful of each sliced caspsicum and red onion
Method  - Sear the chicken in a hot wok, and add all the other ingredients. Turn down and simmer until the chicken is cooked and tender. Serve with rice, noodles or any veggies. This one works in the slow cooker too, just throw everything in and leave on low for around 4 hours.
Chinese Braised Beef
Ingredients
600gms diced gravy or stewing beef

150gms Wok Sauce

2 tsp five spice, or 2 tsp Bakers grind 

2 TBL honey (we recommend Matui Chilli honey) 

1 cup water or stock

1 onion diced
Method - Pop all ingredients into the slow cooker and leave on low for 8 hours, or on high for around 6 until the beef is beautifully tender, fragrant and sticky. Serve with steamed rice and bok choy, with a little extra wok sauce, fresh chilli and coriander if desired.
Grab your wok sauce here & other February specials here:
https://pepperandme.co.nz/collections/february-limited-editions-specials