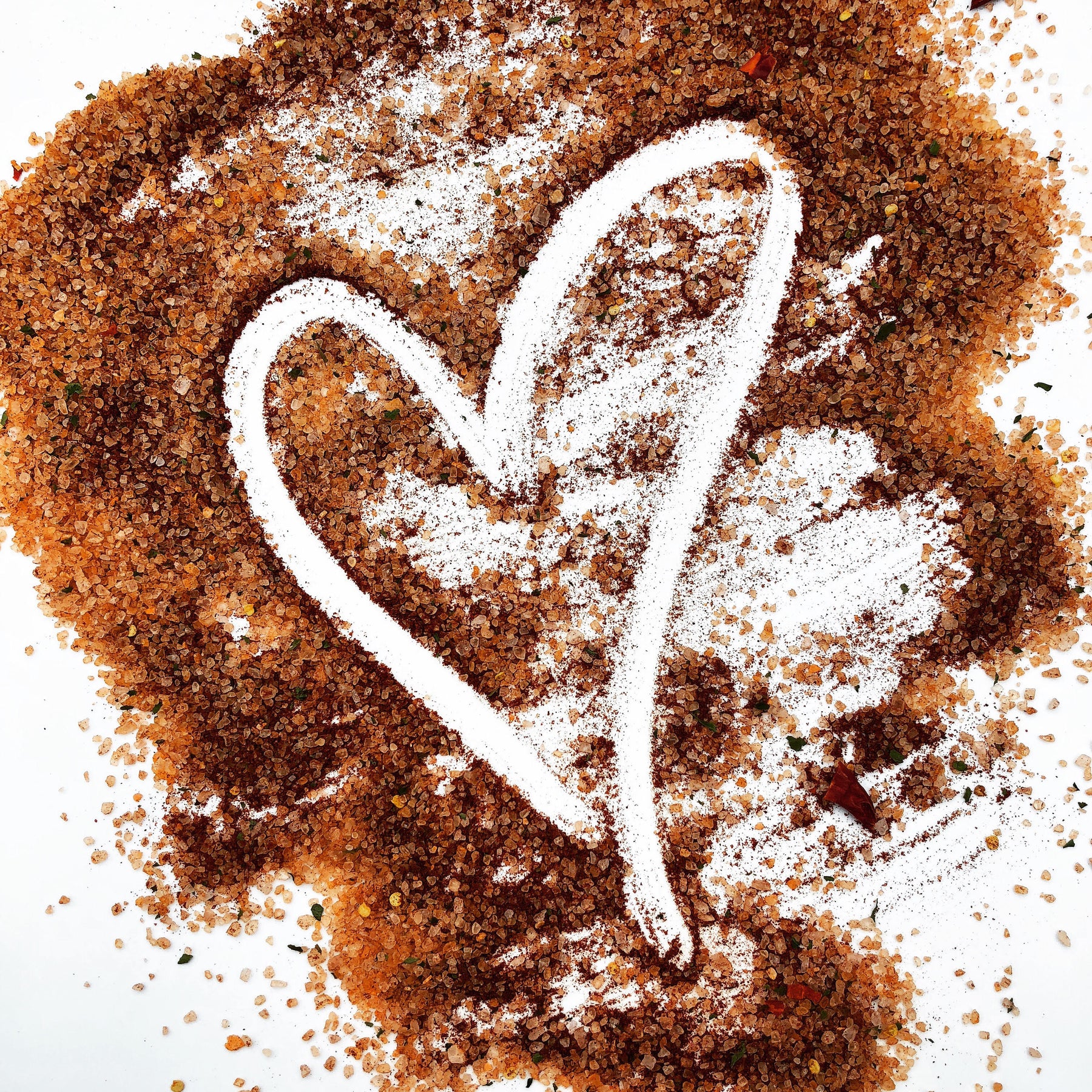 Valentine's day specials!
This year, celebrate Valentine's Day by sharing your love of Pepper & Me with your significant other!
It's February and love is in the air!  We're very excited to offer you these limited edition Pepper & Me Valentine's Day goodies, its a little something special for bae, while also being of great use to you... Ain't that the gift that keeps on giving! Grab your sexiest pinny and make a date with your fav to get cooking!
We have decided that rather than making the packs for you, you can pick and choose whatever products you like, then add our sleek black gift box packaging filled with wood wool and your goodies, if you wish. Just addd the box onto your purchase and we will pack him up all fancy if its been gifted.
The following six products will be released at 7pm on Friday night, and will be strictly first in first served. Orders will be shipped on Monday and Wednesday. Please be aware that Tuesday is a public holiday, so the courier service will be delayed, and your orders will take longer than usual. 
Our deep burgundy Chipotle and lime salt has all the colours of St Valentine, but its' a little more special than the standard flowers or chocolates! This salt comes in 100gm bags, the perfect size to fill up a Pepper & Me grinder. The deep smoke of the chipotle is offset with a hint of zesty lime. Theres also some chunky chilli and a handful of parsley, in a pure rock salt base. This salt is 100% gluten, dairy, soy free and vegan. This smokey, spicy number has a decent chilli hit, so be warned! This salt is another versatile number, amazing on corn on the cob, fresh avocado, scrambled eggs with feta, roast potatoes or and cut of meat. Perfect to bring a little zesty zing to salads or dressings, or just to have as a table salt for extra added deliciousness. Perfect paired in any dish with our Mexican or Tandoori paste. 
The newest crumb on the block, our Lemon and Herb Crumb is a fresh and herby delight. The Panko base is seasoned with basil, dill, pepper and lemon with a touch of tarragon. The flavours were designed for summers fresh caught fish, or everyones family favourite, a delicious chicken schnitzel. It comes in a  200gm bag, perfect for one family meal. For something a little different, try the lemon and herb crumb to crumb eggplant slices, crust on tomtaoes before grilling, stuff some giant portabello mushrooms or sprinkle on top of your mac n cheese. 
Everyone's favourite Christmas product, our Sweet Mother Dukkah will be making an appearance in a very limited quantity for those first in. If you missed out last time, our Sweet Dukkah is a Peanut based product (sorry allergy folks) with crush almonds and chunky pecans, spiced vanilla biscuit crumbs, toasted coconut, cacao nibs and a pop of freeze dried cherries. Sweetened only with a little crunchy coconut sugar, this blend is a delicious and easy to use product. Try it sprinkled on Ice Cream or yoghurt and fruit. Perfect addition to your smoothie bowl or any dessert. Particularly delicious paired with something creamy like chocolate mousse, on top of a pavlova or try truffles dipped in white chocolate and then rolled in Sweet Dukkah - or for a healthier option, try rolling your bliss balls! We only have 300 of these available, grab some while you can!
Our three Culley's picks will be released at the same time 
The HOT buffalo wing sauce. Its an American classic, with a decent blast of heat. Amazing for so much more than just chicken wings! Im currently putting it on everything I eat... Make sure you have some blue cheese sauce around for double dipping anything glazed in this deliciousness, its a combo that can't be beaten.
The MILD buffalo wing sauce, is the same as above, but without the punch. The beautiful southern style flavours all come through, and its mild enough for the whole family. Such a devine alternative sauce to use on burgers, chips, cheese toasties, or as it was designed to be - a marinade and glaze for chicken and beef.
The Rib N Chikn Sauce - A wicked BBQ style sauce, sweetened with fresh pineapples and a hint of coffee. Its delicious and has a great flavour profile. obviously amazing for ribs and chicken! the sauce would be a perfect marinade for anything going on the BBQ, or to add depth to anything going in the slow cooker. Can also be used as you would a standard BBQ sauce. We hope you enjoy it as much as we do!
See you at 7pm Friday addicts!
Hopefully you all know by now that you can't dare be late to these types of affairs!