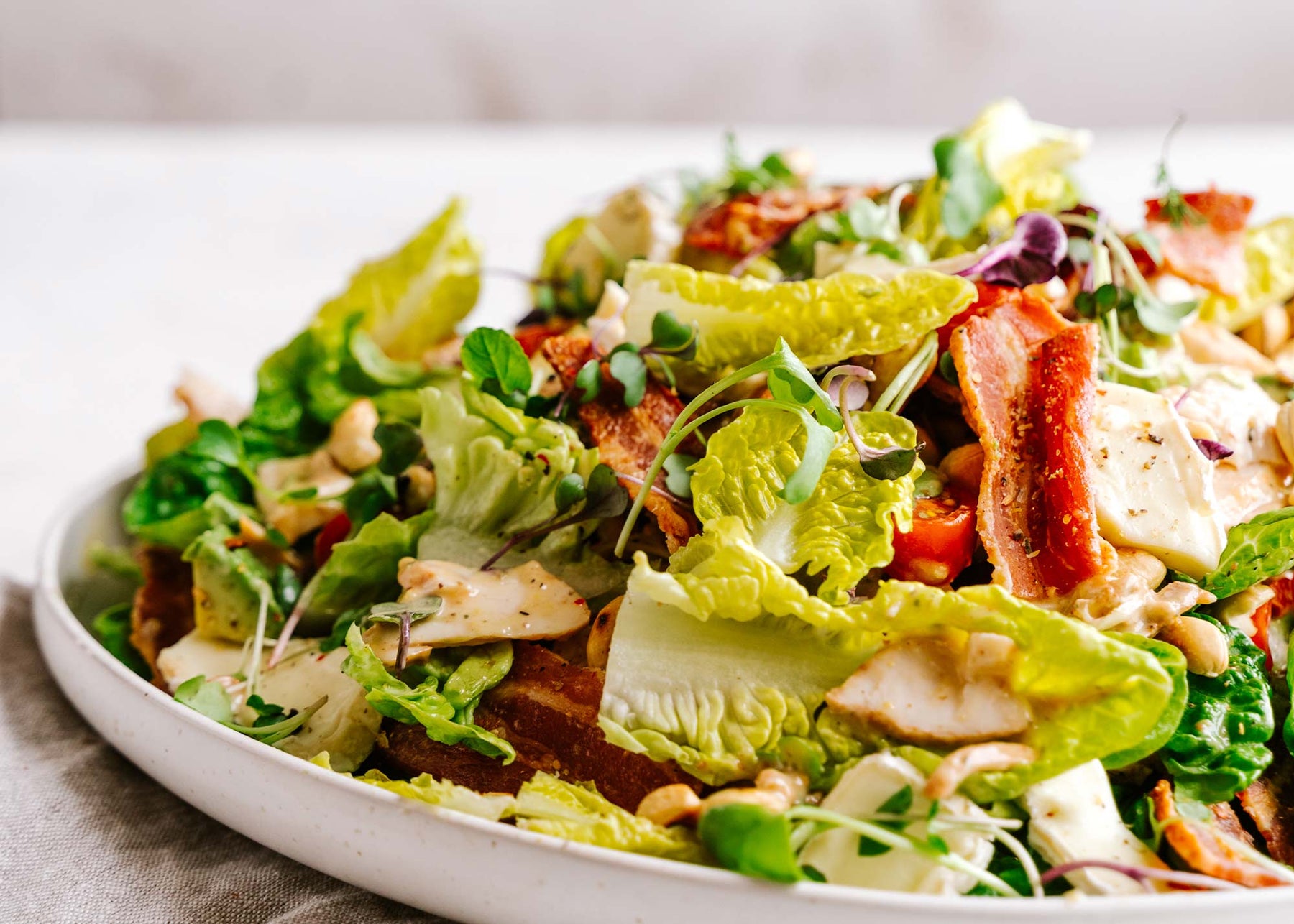 Chicken & Bacon Salad With Dude Ranch Dressing
And On The
11th
Day Of Christmas, We Are Serving
Chicken & Bacon Salad

With Dude Ranch Dressing
Ranch seasoning is pretty hot across the world right now, and we think you are going to love this one! This makes the most delicious ranch dressing which can be used for anything! Use this dip to dip your buffalo wings, ranch french fries, potato skins, cauliflower wings or jalapeno poppers.
Ingredients
Salad
2 Baby Cos Lettuce
500g Cooked Chicken (Sliced)
500g Streaky Bacon (Cooked Crispy)
2 Avocados
1 Punnet Cherry Tomatoes (halved)
50g Cashews
½ cup Dude Ranch Dressing
Dude Ranch Dressing
2 tbsp of Dude Ranch Powder
¼ cup Mayo
¼ cup Sour Cream
1 tsp White Vinegar
Instructions
1:
To make the Dude Ranch dressing, mix 2 tbsp of Dude Ranch powder with ¼ cup mayo and ¼ cup sour cream, and 1 tsp white vinegar. Mix and pop aside.
2:
Toss the cooked chicken in dressing, you are wanting to heavily dress the chicken.
3:
Roast the cashews in a dry frying pan over a medium heat for 4-5minutes or until lightly browned.
4:
Cut crispy bacon into strips.
5:
Wash baby cos and cut into bite sized strips.
6:
To assemble the salad, layer one third of the cos on a platter and arrange one third of the chicken, diced avocado, bacon, and tomatoes. Repeat for two more layers, finishing the top layer with roasted cashews.
Alternatives
Vegetarian:
Replace the Meat from this recipe with extra salad veggies, or some grilled cauliflower.
Missing out on the Advent Calendar fun & excitement for 2022?
Its never to early to start thinking about Christmas......Even when it's the Christmas of 2023. We sold out of our Advent Calendars for 2022 but if your wanting to keep upto date with our plans for next year then let us know your details below and we will keep you in the loop that way.
Love this recipe and want more?
Try the Pepper & Me Club!
If your after new and creative recipes to use your Pepper & Me products in then our Club is the place for you. For $5NZD a month, we have a library of delicious recipes for you to own your dinner table.