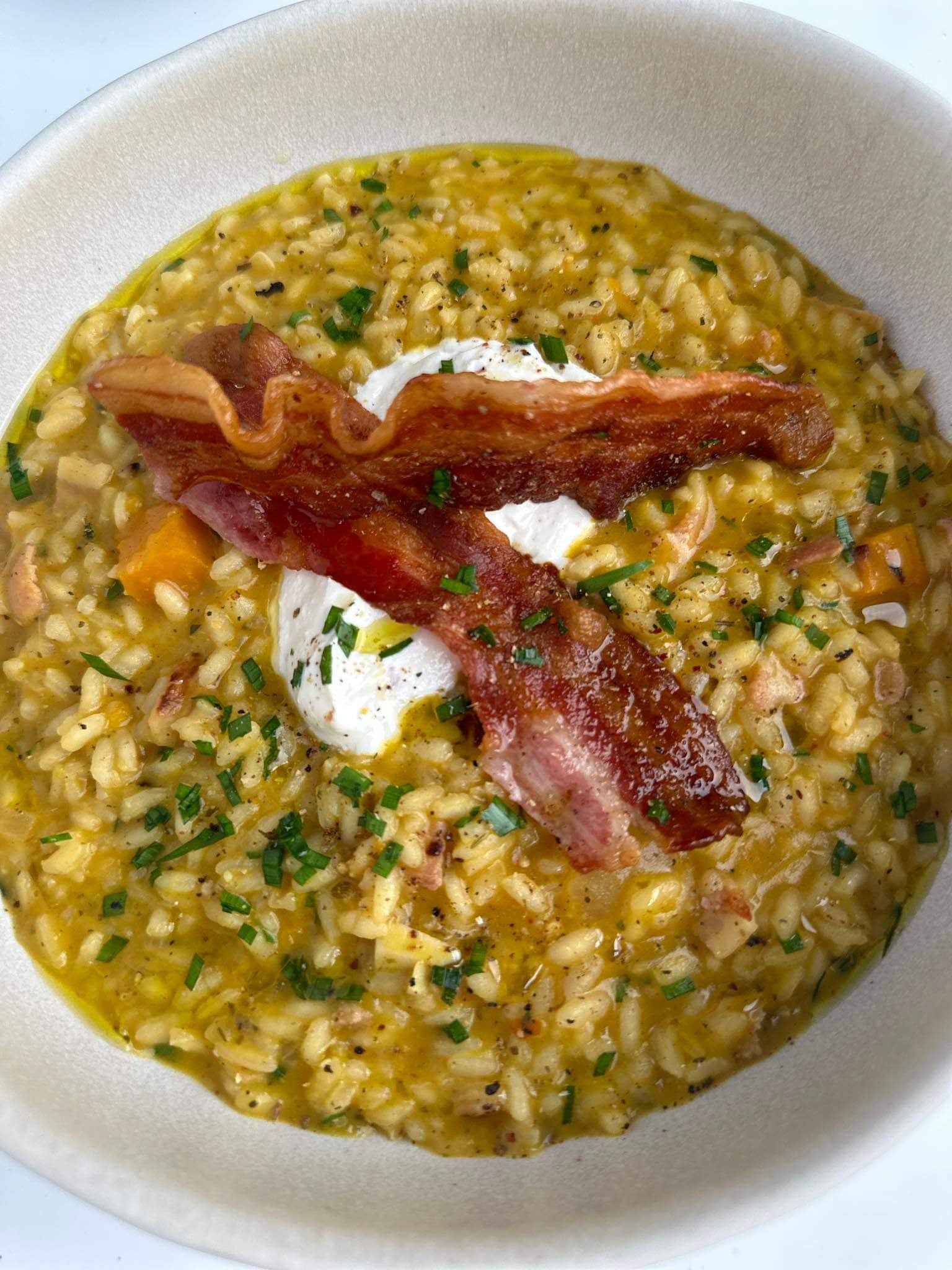 Pumpkin & Bacon Risotto
< Return To Recipes
Pumpkin & Bacon Risotto
An incredible way to use any leftover pumpkin soup to elevate a simple risotto.


Ingredients
50g butter
5 cloves garlic
1 onion
150g streaky bacon
2 cups Arborio rice
1 tbsp Man Grind
1/2 cup white wine optional
1.5L chicken stock
1.5 cups pumpkin soup
50g Parmesan
Fresh chopped parsley
250g cubed pumpkin
Instructions
1:
To prep the cubed pumpkin drizzle with a little oil and season with Man Grind and roast for 20 min at 200 C Fan Bake.
2:
To make the risotto add the butter to a large pan or pot, melt over a medium high heat.
3:
Sauté finely diced onion and garlic in butter for a few minutes to soften. 
4:
Add diced streaky bacon and cook off for another couple of minutes. 
5:
Next add the rice and cook off for one minute. Add Man Grind. 
6:
Deglaze with wine if using and stir until all the wine has cooked off. 
7:
Now start adding the stock. If you can, heat the stock in a large pot or jug. Add the stock a ladle at a time and cook until the rice has absorbed the stock. It will take about 20 minutes to add all the stock.
8:
Next stir through the pumpkin soup and cubes of pumpkin and cook off for another couple of minutes. This is a lovely loose risotto, if you prefer something thicker, reduce the stock by 1 cup. 
9:
Remove from the heat and vicariously stir in the Parmesan and fresh parsley. 
Love this recipe and want more?
Try the Pepper & Me Club!
If you're after new and creative recipes to use your Pepper & Me products in then our Club is the place for you. For $5NZD a month, we have a library of delicious recipes for you to own your dinner table.