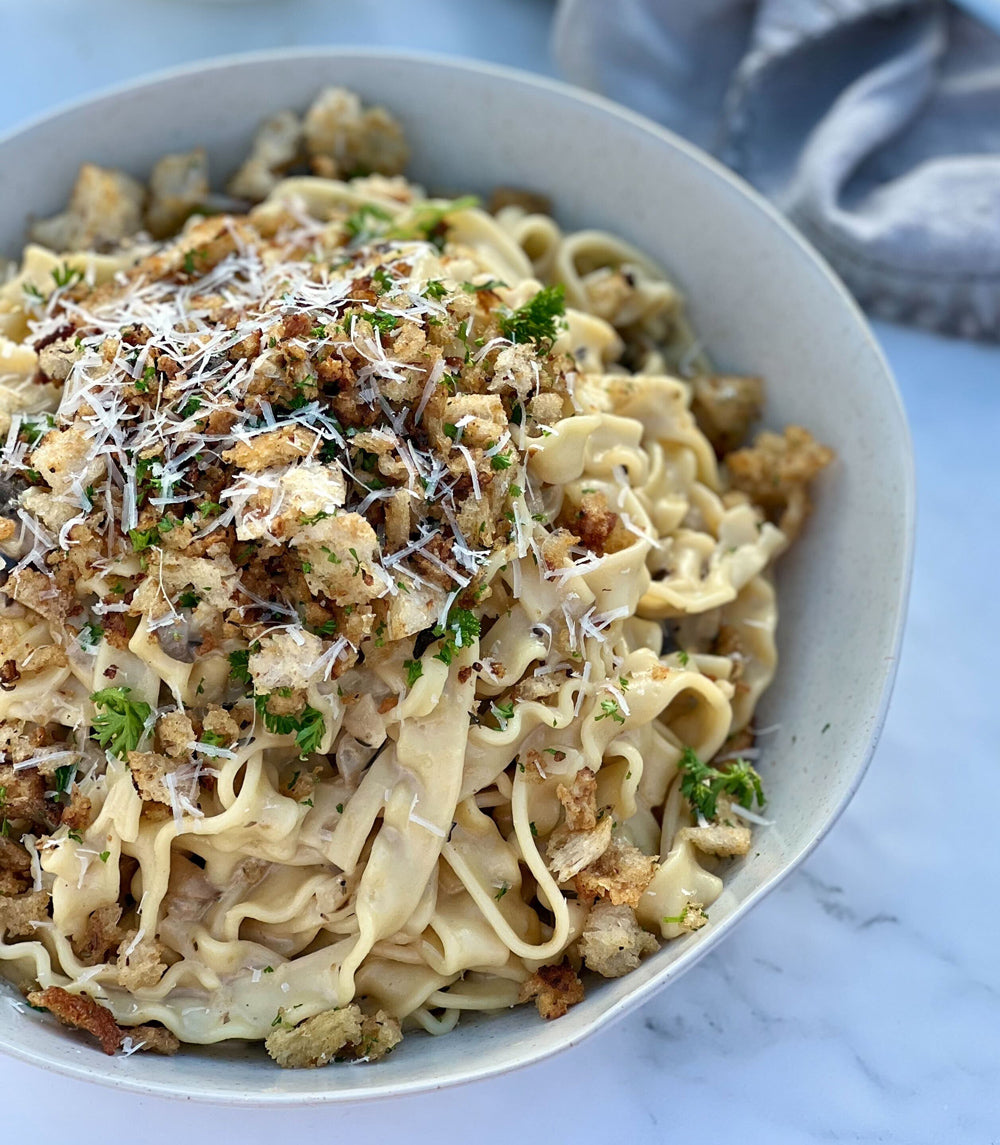 Mushroom Pasta
< Return To Recipes
Mushroom Pasta
Indulge in a delish Mushroom pasta that's sprinkled with the enchanting flavours of our Magic Mushie Dust.
Ingredients
300g fettuccini
200g mushrooms
1 onion, finely diced
4 cloves garlic, crushed
50g butter
1/2 cup white wine
1.5 cups boiling water
2 tbsp Magic Mushie Dust
1/2 cup cream
100g finely grated Parmesan
Man Grind

Crumb
2 slices sourdough
2 tbsp fresh parsley
1 tsp Magic Mushie Dust
2 tbsp butter

Instructions
1:
Bring a large pot of salted water to the boil and cook your pasta as per packet instructions.
2:
In a jug or small bowl combine the Magic Mushie Dust with boiling water and set aside.
3:
To make the mushroom sauce add the butter to a pan with onion and garlic, sauté over a medium high heat for 2-3 minutes. 
4:
Next add sliced mushrooms and sauté for another few minutes until the mushrooms are lightly golden. 
5:
Deglaze the pan with the white wine and cook off till mostly evaporated. 
6:
Pour in the mushroom stock mixture and leave to simmer for 6-7 minutes. 
7:
Add cream and Parmesan and simmer for another minute or so. Taste the sauce and season with Man Grind as needed.
8:
Drain the pasta well and add to the mushroom sauce, toss well to coat. Remove from the heat and leave to sit for a few minutes while you prepare the crumb. 
9:
To make the crumb use a food processor or mini chopper and pulse the sourdough until you get a chunky crumb
10:
Add butter to a small fry pan, add the crumb and magic mushie dust and cook off for 3-4 minutes until the crumbs are nicely toasted.
11:
Toss through finely chopped parsley and sprinkle over pasta to serve.
Love this recipe and want more?
Try the Pepper & Me Club!
If you're after new and creative recipes to use your Pepper & Me products in then our Club is the place for you. For $5NZD a month, we have a library of delicious recipes for you to own your dinner table.