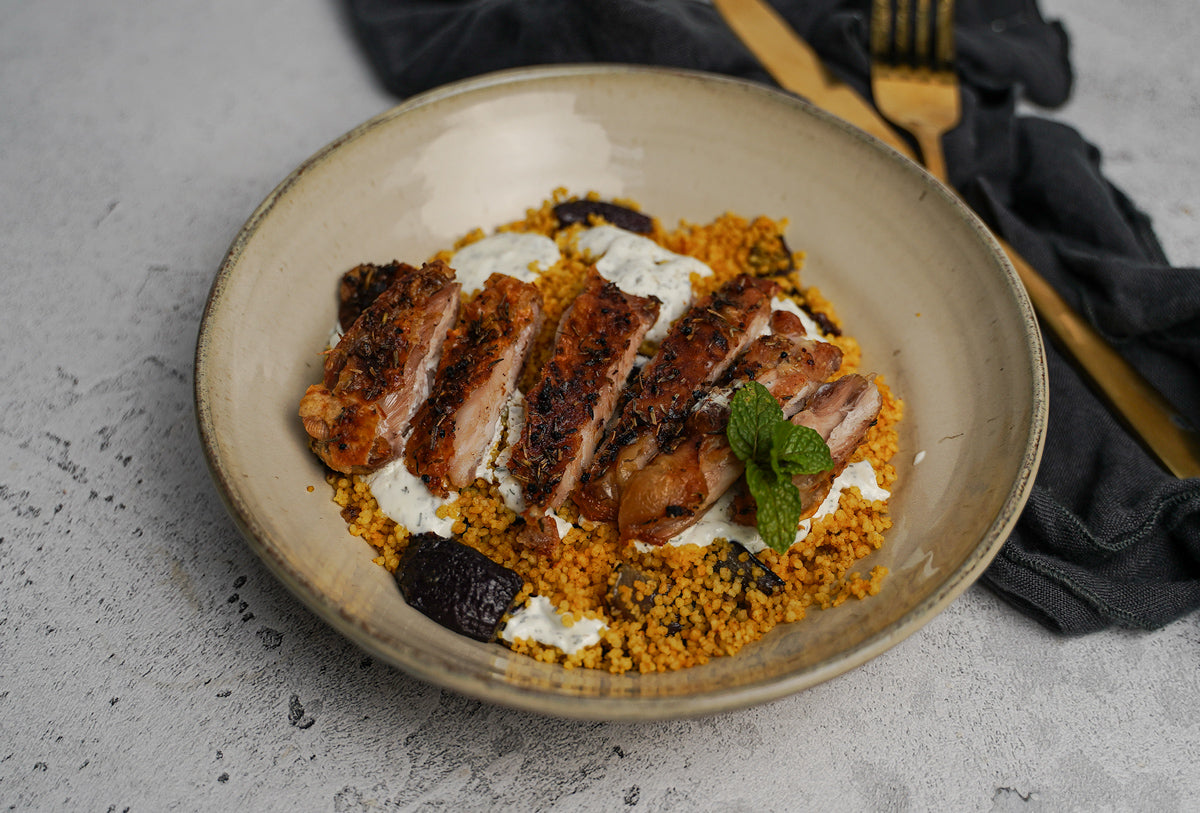 Crispy Chicken Thigh & Moroccan Couscouss
< Return To Recipes
Crispy Chicken Thigh & Moroccan Couscous
Serves: 4
Crispy Skin Chicken Thigh with a delicious light Couscous Salad.
Instructions
1:
Preheat oven to 210 fan forced.
2:
Prep the skin on your chicken thigh by either leaving to air dry for 15-30 mins or patting with a paper towel.
3:
Season chicken with Oil and Pepper & Me Spit roast.
4:
Put in the oven for around 30 mins, or until chicken is cooked through and skin is crispy.
5:
Cut onion into chunks, season with oil and spit roast, and roast for around 15-20 mins. Add any other veges at this point, carrots go great (but require longer roasting time).
6:
Cook couscous by adding equal boiling water to cous cous (1 to 1.5 cups should feed around 4 people). Season quickly with 1 tbsp of moroccan paste and Man Grind before the water absorbs. Cover and leave for 10 minutes.
7:
Prepare tzatziki dressing as per instructions with Yogurt and Tzatziki seasoning.
8:
Mix your couscous with roasted onion.

Love this recipe and want more?
Try the Pepper & Me Club!
If your after new and creative recipes to use your Pepper & Me products in then our Club is the place for you. For $5NZD a month, we have a library of delicious recipes for you to own your dinner table.