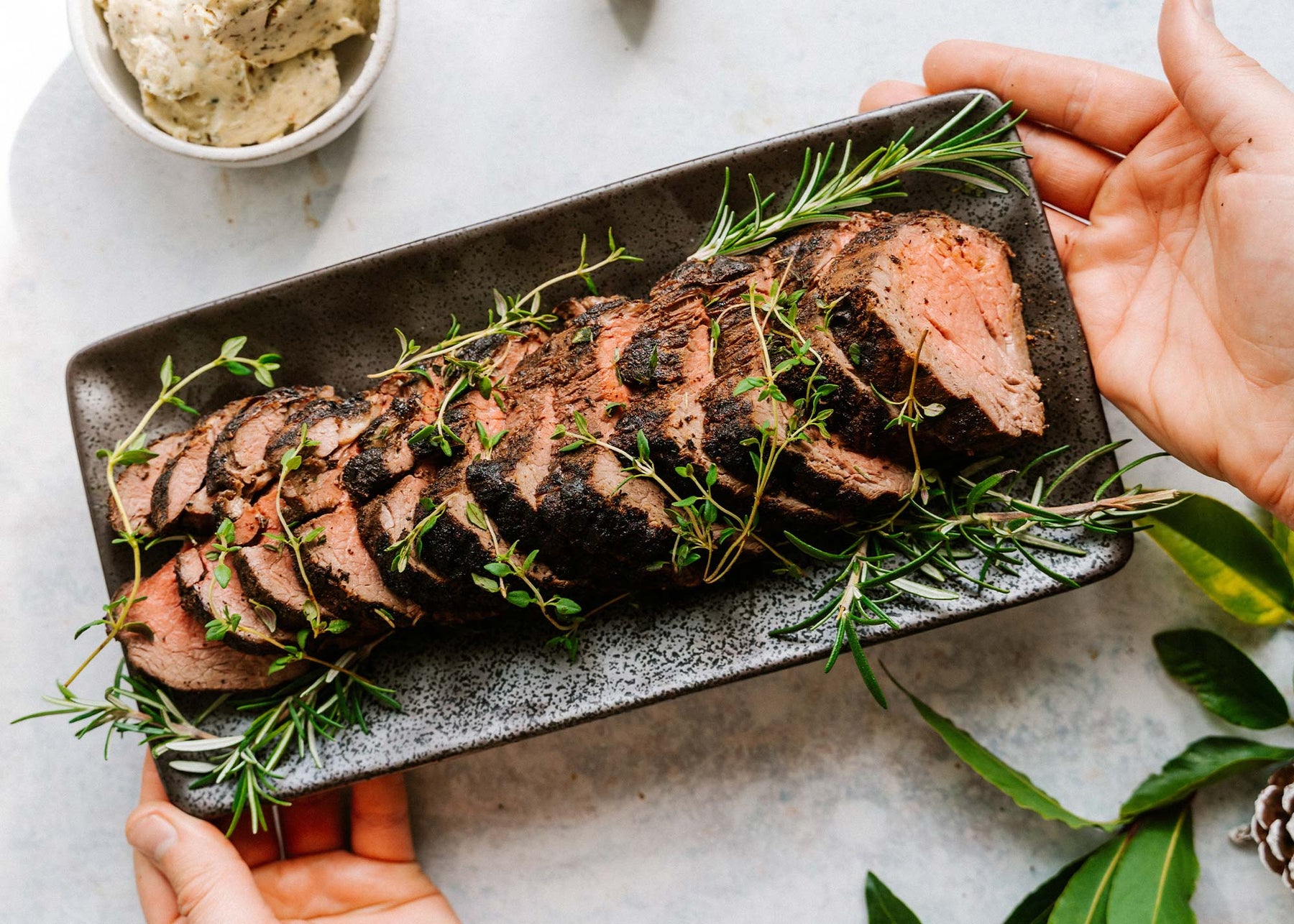 BBQ Roasted Eye Fillet
< Return To Recipes
BBQ Roasted Eye Fillet
My favourite way to cook beef - The delicious BBQ eye fillet. This rub works perfectly on all cuts of beef though, including brisket, pot roasts or even just sprinkle on rump steak slices before BBQing for an easy everyday option
. 
Ingredients
1 whole Eye Fillet (Beef Tenderloin)
30g Triple Shot seasoning
100ml Oil of choice

Instructions
1:
To prepare your eye fillet, trim away any sinew using a filleting knife, but leave any fat on. Remove the tail chunk, use this for a stir fry.
2:
Drizzle your fillet with oil and season it evenly and liberally with Double Shot seasoning.
3:
Now - if everyone likes their steak medium rare, cut the fillet in half - it's much easier to control the cooking as the thinner end cooks much faster than the thicker part. If you have someone who likes well done meat and others who like it rare then its fine to leave whole, and let the thinner end cook right through.
4:
Heat up the flat plate side of your BBQ. Once hot, sear each side of the fillet (all four sides, think of it as a square) for a good 5 minutes each side for the large piece and 3 minutes per side for the thinner piece.
5:
Turn off the heat and shut the lid of the BBQ for 10 minutes. This lets the residual heat finish the cooking and get your steak nicely rested.
6:
Slice approximately 1 cm thick slices.
To Serve:
Spoon a lump of roast garlic and herb butter on top to melt. This goes great with a couple of side salads, or some crispy roasted spuds!
Alternatives:
Vegetarian: This rub goes beautifully with field mushrooms! Oil, Sprinkle and grill, and serve with crumbled feta.
Love this recipe and want more?
Try the Pepper & Me Club!
If your after new and creative recipes to use your Pepper & Me products in then our Club is the place for you. For $5NZD a month, we have a library of delicious recipes for you to own your dinner table.