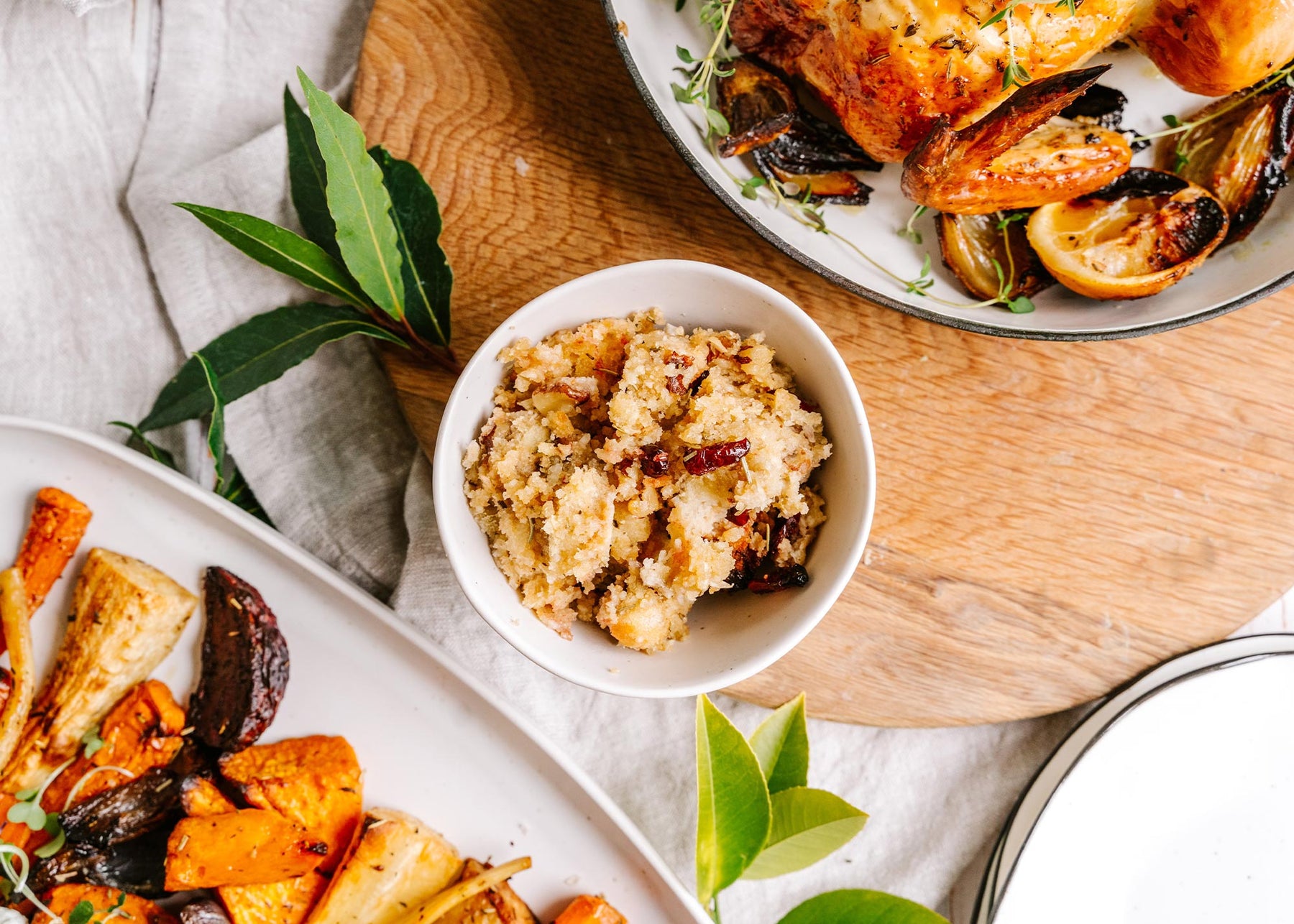 Roast Chicken With Stuff It Stuffing Mix
And On The
16th
Day Of Christmas, We Are Serving
Roast Chicken

With Stuff It Stuffing Mix
The perfect stuffing, for chicken, turkey - Or for an epic vegetarian option, roll these into balls and roast with your veggies.
Ingredients
Stuffing Mix
1 Jar Stuff It
2 Eggs
70 g Melted Butter
3 Slices White Bread (torn up)
1 tsp Man Grind
Roast Chicken
1 Chicken (medium sized)
Stuffing Mix
3 tbsp Butter (room temp)
Man Grind or Spit Roast Salt Flakes
Instructions
1
Preheat oven to 180ºc Fan Bake.
2
Add jar of stuffing mix to a bowl with torn up fresh white bread.
3
Add melted butter, whisked eggs and Man Grind. Mix well to combine. For gluten free use gluten free fresh bread.
4
Stuff the chicken with the stuffing mix.
5
Rub the chicken with the softened butter and season all over with Man Grind or Spit Roast Salt Flakes.
6
Bake for 100 minutes. Remove from the oven, cover loosely with foil and leave to rest for 10 minutes before carving.
Alternatives
Vegetarian: Roll stuffing into balls and roast in the oven with chunky seasoned roast veggies, for 30 mins at 180ºc.
Gluten Free: Substitute bread with 3 slices of gluten free bread.
Dairy Free: Substitute butter for margarine or olive oil.
Missing out on the Advent Calendar fun & excitement for 2022?
Its never to early to start thinking about Christmas......Even when it's the Christmas of 2023. We sold out of our Advent Calendars for 2022 but if your wanting to keep upto date with our plans for next year then let us know your details below and we will keep you in the loop that way.
Love this recipe and want more?
Try the Pepper & Me Club!
If your after new and creative recipes to use your Pepper & Me products in then our Club is the place for you. For $5NZD a month, we have a library of delicious recipes for you to own your dinner table.